Barry Harris Trio The Last Time I Saw Paris LP 180g Vinyl Venus Records Hyper Magnum Sound Japan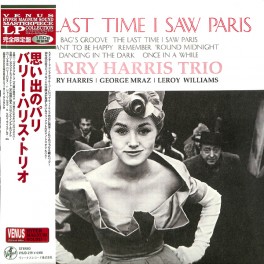 Maximize
Japanese audiophile label Venus Records is renowned for their great jazz music, high quality recordings and gorgeous artwork. Founded in 1992 by Tetsuo Hara, who had worked as a producer for RCA Victor, uses a signature mastering process named 'Venus Hyper Magnum Sound', a Direct Mix recording that results in incredible sound quality appreciated by music fans around the world.
Limited Edition
LP 180 Gram Audiophile Vinyl
High Quality Japanese Pressing
Mixed and Mastered by Tetsuo Hara
Venus Hyper Magnum Sound Direct Mix Stereo
Venus Masterpiece Collection
Includes original OBI Strip
Deluxe Textured Cover
Made in Japan
Internationally Renowned Jazz Pianist On 180g Vinyl LP!

Barry Harris is an Internationally renowned Jazz pianist, composer and teacher. Dr. Harris is the recipient of an Honorary Doctorate from Northwestern University. He has received the Living Jazz Legacy award from the Mid-Atlantic Arts Association, and an American Jazz Masters Fellowship from the National Endowment for the Arts. In addition, Dr. Harris received the Manhattan Borough President Award for Excellence. This award was given for recognition of his devoted public service and in honor of excellence in the field of music. He received the 1999 Mentor award for his work with youngsters at the Manhattan Country School in NYC.

Dr. Harris has devoted his life to the advancement of Jazz and in the 1980s founded the Jazz Cultural Theatre. For the past several decades Dr. Harris has been an exponent of the classic Jazz style that was developed by Charlie Parker, Dizzy Gillespie, Bud Powell, Thelonious Monk and Coleman Hawkins.
Musicians:
Barry Harris, piano
George Mraz, bass
Leroy Williams, drums
Track Listing:
Side A
1. Bags' Groove
2. The Last Time I Saw Paris
3. I Want To Be Happy
4. Remember

Side B
5. 'Round Midnight
6. Dancing In The Dark
7. Once In A While
Click here to listen to samples on YouTube.com ♫