Sir Roland Hanna Trio Milano Paris New York LP 180g Vinyl Venus Records Hyper Magnum Sound Japan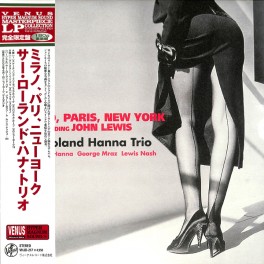 Maximize
Japanese audiophile label Venus Records is renowned for their great jazz music, high quality recordings and gorgeous artwork. Founded in 1992 by Tetsuo Hara, who had worked as a producer for RCA Victor, uses a signature mastering process named 'Venus Hyper Magnum Sound', a Direct Mix recording that results in incredible sound quality appreciated by music fans around the world.
Limited Edition
LP 180 Gram Audiophile Vinyl
High Quality Japanese Pressing
Mixed and Mastered by Tetsuo Hara
Venus Hyper Magnum Sound Direct Mix Stereo
Venus Masterpiece Collection
Includes original OBI Strip
Deluxe Textured Cover
Made in Japan
Songs Dedicated To John Lewis On 180g Vinyl LP!

Milan, Paris, New York: Finding John Lewis is a superb piano trio album by Sir Roland Hanna Trio, dedicated to the classic pianist John Lewis. On this release, Hanna is joined by George Mraz on bass and Lewis Nash on drums. The music here is stylish and alluring.

Sir Roland Hanna was one of the major artists in jazz and one of the most flexible pianists of any generation. Born in Detroit, Michigan, Roland began private piano studies with Ms. Josephine Love at an early age. After graduation from Cass Technical High School and a two-year stint in the US Army, he continued his musical studies at the Eastman and Juilliard Schools of Music. He then followed with a mega-mile career journey, performing in concert halls and clubs in the major cities of the world. He was knighted in 1970 by then-President William V.S. Tubman of Liberia for humanitarian services to that country.
Musicians:
Sir Roland Hanna, piano
George Mraz, bass
Lewis Nash, drums
Track Listing:
Side A
01. Skating In Central Park
02. Bag's Groove
03. New York 19

Side B
04. Afternoon In Paris
05. Django
06. Milano
Click here to listen to samples on YouTube.com ♫