Round Trip Ornette Coleman On Blue Note 6LP 180g Vinyl Kevin Gray Tone Poet Box Set RTI 2022 USA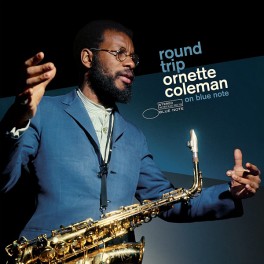 Maximize

Display all pictures
Blue Note Records Tone Poet Audiophile Vinyl Reissues. Joe Harley co-founder of the acclaimed Music Matters Jazz audiophile vinyl label is the producer of this new series, handpicked titles mastered from the original master tapes on 180g Vinyl in deluxe covers. Mastering is done by Kevin Gray at Cohearent Audio and vinyl is pressed at Record Technology Incorporated, RTI in the USA.
Tone Poet Audiophile Vinyl Reissue Series
Blue Note 80th Anniversary
All Analog Mastering
Cut by Kevin Gray at Cohearent Audio
Mastered From Original Analog Master Tapes
Reissue supervised by Joe Harley (Music Matters)
180 Gram Audiophile Vinyl Pressed at RTI USA
6LP Deluxe Box Set
The Blue Note Tone Poet Series was born out of Blue Note President Don Was' admiration for the exceptional audiophile Blue Note LP reissues presented by Music Matters. Was brought Joe Harley (from Music Matters), a.k.a. the "Tone Poet," on board to curate and supervise a series of reissues from the Blue Note family of labels.

Extreme attention to detail has been paid to getting these right in every conceivable way, from the jacket graphics and printing quality to superior LP mastering (direct from the master tapes) by Kevin Gray to superb 180-gram audiophile LP pressings by Record Technology Inc. Every aspect of these Blue Note/Tone Poet releases is done to the highest possible standard. It means that you will never find a superior version. This is it!

"Per Don Was's direction, everything about this reissue series closely mirrors the Music Matters releases that so impressed Was..." - Michael Fremer, Analogplanet
All-Analog 180g Vinyl 6LP Box Set of Ornette Coleman's Round Trip Mastered from the Original Master Tapes by Kevin Gray & Pressed at RTI: Reference-Caliber Blue Note Reissue Helmed by Music Matters' Joe Harley

Iconoclastic saxophonist and composer Ornette Coleman shook the jazz world when he arrived at the Five Spot Café in New York City in 1959 and began his run of seminal albums on Atlantic that laid the foundation for the free jazz movement to come. After a period of disillusionment during which he withdrew from public music making, Coleman re-emerged on Blue Note in 1966 and began writing an intriguing new chapter of his legendary career. Round Trip: Ornette Coleman On Blue Note presents all-analog 180g vinyl LP editions of all six albums featuring Coleman that were recorded for Blue Note, including his five albums as a leader – the two-volume At The 'Golden Circle' Stockholm (1965), The Empty Foxhole (1966), New York Is Now! (1968), and Love Call (1968) – as well as his lone sideman appearance on New And Old Gospel (1967) by fellow saxophonist Jackie McLean. The box set includes a booklet featuring rare photos and an enlightening essay by critic Thomas Conrad.
LP1: At The "Golden Circle" Stockholm Vol. 1 (1965)
LP2: At The "Golden Circle" Stockholm Vol. 2 (1965)
LP3: The Empty Foxhole (1966)
LP4: New And Old Gospel (1967)
LP5 New York Is Now! (1968)
LP6: Love Call (1968)