Carole King Tapestry 2LP 45rpm 180 Gram SuperVinyl UltraDisc One-Step UD1S MFSL MoFi RTI 2022 USA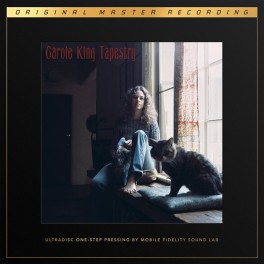 Maximize

Display all pictures
Tapestry by Carole King created the standard for the 1970s female singer and songwriter, selling over 25 million copies worldwide with four hit singles it was produced to present the music with natural acoustics, realistic timbre and lifelike in the room sound projection, and now it does so more than ever on the definitive audiophile One-Step remaster from the Original Analog Master Tapes by MFSL.
Rolling Stone 500 Greatest Albums of All Time Rated 36/500
Strictly Limited Edition Box Set
Numbered Edition (10000 units)
UltraDisc One-Step UD1S
180 Gram High Definition SuperVinyl
2LP 45rpm Pressed at RTI, USA
Audiophile mastering on MFSL Gain 2 Ultra Analog System
Mastered from the Original Master Tapes
Mastered by Krieg Wunderlich
Deluxe gold-foiled box set
Contains special jackets
THE CONSUMMATE VERSION OF TAPESTRY: DELUXE AUDIOPHILE PRESSING LIMITED TO 10,000 NUMBERED COPIES
1/4" / 15 IPS analog master to DSD 64 to analog console to lathe
Carole King's Tapestry is the rare record that plays in your head the moment its title, cover art, or songs are mentioned. Ranked the 25th Greatest Album of All Time by Rolling Stone, it is the singer-songwriter LP you'd bring to the proverbial desert island if you were limited to one choice. Renowned for its lifelike production, Tapestry sounds clearer, richer, and more emotional than ever courtesy of Mobile Fidelity's UltraDisc One-Step reissue.

Commemorating the record's 50th anniversary in collaboration with SME/Legacy Recordings, mastered from the original master tapes, cut at 45RPM, pressed on MoFi SuperVinyl at RTI, and limited to 10,000 copies, the iconic audiophile label's UD1S 180g 45RPM 2LP box set remains faithful to original album producer Lou Adler's vision of making King (and not just any pianist player) appear seated and playing just for you. Friends, this is the edition that brings King right before your eyes and into your room.

Visually, the lavish packaging and gorgeous presentation of the UD1S Tapestry befit its select status. Housed in a deluxe box, it features special foil-stamped jackets and faithful-to-the-original graphics that illuminate the splendor of the recording. No expense has been spared. The UD1S set exists as a curatorial artifact meant to be preserved, touched, and examined. It is made for discerning listeners that prize sound quality and production, and who desire to fully immerse themselves in the art – and everything involved with the album, from the images to the finishes.

Aware of how many times this iconic work has been re-released, Mobile Fidelity engineers ensured this UD1S edition benefits from lifelike spaciousness, presence, fullness, dynamics, and openness. The wider grooves allow more information to reach your ears, and MoFi SuperVinyl means the noise floor is as absolutely low as possible. The results mirror what went down in A&M Studios: Lean, simple, direct, and so nakedly real the sonics evoke what might be heard on a professional demo tape.

King's personal singing, her graceful pianism, and the integral rhythmic foundation provided by the likes of drummer Russ Kunkel and guitarist Danny Kortchmar – and the contributions of guest instrumentalists ranging from saxophonist Curtis Amy to guitarist James Taylor – resonate with three-dimensional imaging and cozy realism. Every note, and every basic movement, is accurately rendered with exquisite detail and full-bodied tonality.

Indeed, one reason Tapestry endures – apart from the flawless songwriting, earnest deliveries, and eloquent performances – owes to the naturalness of the production and songs. King's articulations on love, conviction, friendship, place, sadness, and companionship ring true because there's no doubting their meaning, intent, or sincerity. Tapestry makes you feel. It compels you to get closer to the music and the musicians performing. It is an album of organic nuances, suggestive intents, and engaging melodies.

Classics such as "You've Got a Friend," "I Feel the Earth Move," "Will You Still Love Me Tomorrow," and "(You Make Me Feel Like) A Natural Woman" resonate because they address universal sensibilities and the human condition. They, like all of Tapestry, are relaxed yet emancipating, strong yet mellow, comfortable yet terrifically beautiful and lastingly unique. Four major Grammy Awards, four Top 10 singles, and worldwide sales of more than 25 million copies just seem like icing on the cake.

There's only one Tapestry, and Mobile Fidelity's collectible UD1S version weaves together all its elements in incomparable fashion.
More About Mobile Fidelity UltraDisc One-Step and Why It Is Superior

Instead of utilizing the industry-standard three-step lacquer process, Mobile Fidelity Sound Lab's new UltraDisc One-Step (UD1S) uses only one step, bypassing two processes of generational loss. While three-step processing is designed for optimum yield and efficiency, UD1S is created for the ultimate in sound quality. Just as Mobile Fidelity pioneered the UHQR (Ultra High-Quality Record) with JVC in the 1980s, UD1S again represents another state-of-the-art advance in the record-manufacturing process. MFSL engineers begin with the original master tapes and meticulously cut a set of lacquers. These lacquers are used to create a very fragile, pristine UD1S stamper called a "convert." Delicate "converts" are then formed into the actual record stampers, producing a final product that literally and figuratively brings you closer to the music. By skipping the additional steps of pulling another positive and an additional negative, as done in the three-step process used in standard pressings, UD1S produces a final LP with the lowest noise floor possible today. The removal of the additional two steps of generational loss in the plating process reveals tremendous amounts of extra musical detail and dynamics, which are otherwise lost due to the standard copying process. The exclusive nature of these very limited pressings guarantees that every UD1S pressing serves as an immaculate replica of the lacquer sourced directly from the original master tape. Every conceivable aspect of vinyl production is optimized to produce the most perfect record album available today.
MoFi SuperVinyl

Developed by NEOTECH and RTI, MoFi SuperVinyl is the most exacting-to-specification vinyl compound ever devised. Analog lovers have never seen (or heard) anything like it. Extraordinarily expensive and extremely painstaking to produce, the special proprietary compound addresses two specific areas of improvement: noise floor reduction and enhanced groove definition. The vinyl composition features a new carbonless dye (hold the disc up to the light and see) and produces the world's quietest surfaces. This high-definition formula also allows for the creation of cleaner grooves that are indistinguishable from the original lacquer. MoFi SuperVinyl provides the closest approximation of what the label's engineers hear in the mastering lab.
Track Listing:

01. I Feel the Earth Move
02. So Far Away
03. It's Too Late
04. Home Again
05. Beautiful
06. Way Over Yonder
07. You've Got a Friend
08. Where You Lead
09. Will You Love Me Tomorrow?
10. Smackwater Jack
11. Tapestry
12. (You Make Me Feel Like) A Natural Woman
Click here to listen to samples on YouTube.com ♫