Eddie Higgins Trio Dear Old Stockholm LP 180 Gram Vinyl Venus Records Hyper Magnum Sound Japan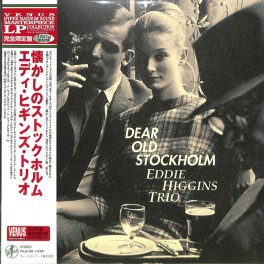 Maximize
Japanese audiophile label Venus Records is renowned for their great jazz music, high quality recordings and gorgeous artwork. Founded in 1992 by Tetsuo Hara, who had worked as a producer for RCA Victor, uses a signature mastering process named 'Venus Hyper Magnum Sound', a Direct Mix recording that results in incredible sound quality appreciated by music fans around the world.
Limited Edition
LP 180 Gram Audiophile Vinyl
High Quality Japanese Pressing
Mixed and Mastered by Tetsuo Hara
Venus Hyper Magnum Sound Direct Mix Stereo
Venus Masterpiece Collection
Includes original OBI Strip
Deluxe Textured Cover
Made in Japan
Celebrated jazz trio performs songs picked by fans!

By the time this album was recorded in 2002, veteran pianist Eddie Higgins had become one of the most popular pianists in Japan, thanks in no small part to the independent label Venus Records. To commemorate its 10th anniversary, Venus asked its fans which songs they would like to hear the Eddie Higgins Trio perform in their new album. Higgins chose 12 songs out of the top 25 and added two of his own choosing. It might be interesting for you to learn what songs are preferred by Japanese jazz fans.

With a lot of ballads, this is in most part a mellow, relaxing album. Supported by the deep, tuneful bass of Jay Leonhart and sensitive drums of Joe Ascione, Higgins plays these popular songs with elegance and restrained passion. His musical ideas are always flowing and harmonies beautiful.

Highlights include "Nardis" where the trio picks up the tempo and intensity, "Dear Old Stockholm" (the No. 1 choice of fans) and "Witchcraft" (swinging Sinatra number, anyone?). Great songs, wonderfully played. And as always the case with Venus Records, great sound.
Musicians:
Eddie Higgins - piano
Jay Leonhart - bass
Joe Ascione - drums
Track Listing:
Side A
1. Moonlight Becomes You
2. I Remember Clifford
3. Nardis
4. If You Could See Me Now
Side B
5. Dear Old Stockholm
6. We Will Be Together Again
7. More Than You Know
8. Over The Rainbow
Click here to listen to samples on YouTube.com ♫