Charles Mingus The Black Saint And The Sinner Lady LP 180g Vinyl Impulse Acoustic Sounds QRP USA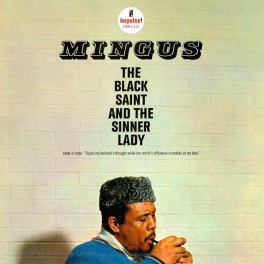 Maximize

Display all pictures
Artist:
Charles Mingus
Title:
The Black Saint And The Sinner Lady
Catalog Number:
B0033602-01 / Impulse A-35
Label:
Impulse!
Reissued by:
Impulse!
Barcode:
602435862156
Original release year:
1963
Reissue year:
2021
Number of discs:
1
Revolutions per minute:
33⅓ rpm
Disc size:
12"
Vinyl Weight Grade:
180gr
Total Item Weight:
522gr
Pressing country:
USA
For Market Release in:
USA
Added to catalog on:
December 11, 2021
Collection:
Acoustic Sounds Series
Note:
Never eligible for any further discounts
Vinyl Gourmet Club:
Yes
Seeking to offer audiophile grade versions of some of the best jazz records ever made, Verve and Universal Music new audiophile Acoustic Sounds Series is supervised by Chad Kassem, utilizing the skills of top mastering engineers and the craft of Quality Record Pressings, with all titles being mastered from the original analog tapes, pressed on 180g vinyl and packaged by Stoughton Printing.
Rated 10/11 Music and 10/11 Sound by Michael Fremer (Analog Planet)

Acoustic Sounds Series
Mastered from the Original Analog Master Tapes
Cut by Ryan K. Smith at Sterling Sound
Audiophile 180 Gram Vinyl LP
Pressed at Quality Record Pressings, QRP USA
Deluxe Gatefold cover by Stoughton Printing
In January of 1963, bassist and composer Charles Mingus recorded a very personal and socially conscious work he titled The Black Saint & The Sinner Lady. Each composition, from the opening 'Solo Dancer' to the closing 'Group and Solo Dance' was a musical expression of Mingus' philosophy of life, love and the world around him. This impressive musical journey has become a landmark event.
There's nothing else in jazz quite like this collection recorded - astonishingly - in just one session on January 20, 1963. The album uses ornate ensemble orchestration to produce a sound somewhere between jazz and folk.
The Black Saint and the Sinner Lady is one of the greatest achievements in orchestration by any composer in jazz history. Charles Mingus consciously designed the six-part ballet as his magnum opus, and - implied in his famous inclusion of liner notes by his psychologist - it's as much an examination of his own tortured psyche as it is a conceptual piece about love and struggle. It veers between so many emotions that it defies easy encapsulation; for that matter, it can be difficult just to assimilate in the first place. Yet the work soon reveals itself as a masterpiece of rich, multi-layered texture and swirling tonal colors, manipulated with a painter's attention to detail... one of the high-water marks for avant-garde jazz in the '60s and arguably Mingus' most brilliant moment. - Steve Huey, AllMusic

A wholly absorbing listen revivified by this spectacular remaster and a crystal clear vinyl pressing that should be part of any serious vinyl collector's library. - Robert Ham, Paste Magazine

The best way to think of this Bob Simpson engineered recording is as an RCA 'Living Stereo' packed in orange and black Impulse clothing. The sonics are sensationally transparent, with the ensemble spread across a wide soundstage. Though the emphasis is on hard left and right, as was the style back then the middle isn't an empty space. Jay Berliner's Flamenco-style guitar appears there transparently and with pristine transient articulation. A comparison between this reissue and an original Impulse produced a sonic draw with each having its own attractive qualities - warmer original versus more transparent reissue - but the reissue is pressed on far quieter vinyl and given a choice I'd take the reissue. Musical and sonic fireworks well worth getting. - Michael Fremer, Analog Planet, Music 10/11, Sound 10/11
Musicians:

Charlie Mingus, bass
Charlie Mariano, alto saxophone
Jake Byard, piano
Jay Berliner, guitar
Don Butterfield, tuba
Dick Hafer, tenor saxophone, flute
Quentin Jackson, trombone

Track Listing:
Side A
A1 Solo Dancer (Stop! And Listen, Sinner Jim Whitney!)
A2 Duet Solo Dancers (Heart's Beat And Shades In Physical Embraces)
A3 Group Dancers ([Soul Fusion] Freewoman And Oh This Freedom's Slave Cries)

Side B
B1 Trio And Group Dancers (Stop! Look! And Sing Songs Of Revolutions!)
B2 Single Solos And Group Dance (Saint And Sinner Join In Merriment On Battle Front)
B3 Group And Solo Dance (Of Love, Pain, And Passioned Revolt, Then Farewell, My Beloved, 'til It's Freedom Day)
Click here to listen to samples on YouTube.com ♫