Archie Shepp Quartet True Blue LP 180g Vinyl Tetsuo Hara Venus Records Hyper Magnum Sound Japan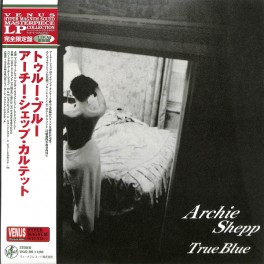 Maximize
Japanese audiophile label Venus Records is renowned for their great jazz music, high quality recordings and gorgeous artwork. Founded in 1992 by Tetsuo Hara, who had worked as a producer for RCA Victor, uses a signature mastering process named 'Venus Hyper Magnum Sound', a Direct Mix recording that results in incredible sound quality appreciated by music fans around the world.
Limited Edition
LP 180 Gram Audiophile Vinyl
High Quality Japanese Pressing
Mixed and Mastered by Tetsuo Hara
Venus Hyper Magnum Sound Direct Mix Stereo
Venus Masterpiece Collection
Includes original OBI Strip
Deluxe Textured Cover
Made in Japan
Shepp Joined By A Stellar Trio On 180g Vinyl LP!

Intelligent, articulate and controversial tenor sax player, composer and singer Archie Shepp was a strong advocate of "free jazz" in the 1960s and 1970s. He surprised Japanese jazz fans in the 1990s when he released a series of ballad albums from Venus Records, beginning with Blue Ballads in 1995 and True Ballads in 1996.

True Blue is his third album released by Venus. After experiencing the volatile and turbulent period of "free jazz", Shepp's playing here is relatively traditional, but uniquely his own. His often hoarse tone is very distinctive and sounds fragile and brawny at the same time. His slow, quiet passages can suddenly turn into an explosion of raw emotions, and the effect is quite stunning.

Supported by a stellar trio of John Hicks, George Mraz and Billy Drummond, the one and only Archie Shepp turned in a wonderful album consisting of standard jazz tunes and several compositions of John Coltrane. He even demonstrates his charming singing voice with a French song, "Que Reste-t-il De Nos Amours".

"...Shepp sounds more inspired here than he has in literally decades...Shepp focuses on what he does best: being a fine stylist and one of the great blues phraseologists in the business....a gorgeous session." - Thom Jurek, AllMusic
Recorded at Clinton Studio "A" in N.Y. on September 13, 1998.
Musicians:
Archie Shepp - tenor sax
John Hicks - piano
George Mraz - bass
Billy Drummond - drums
Track Listing:
Side A
01. Blue Train
02. Everytime We Say Goodbye
03. Time After Time
Side B
04. Lonnie's Lament
05. Que Reste-t-il De Nos Amours
06. But Beautiful
Click here to listen to samples on YouTube.com ♫