Dances With Wolves Soundtrack ORG 2LP 180g Vinyl 45rpm John Barry Numbered Limited Edition RTI USA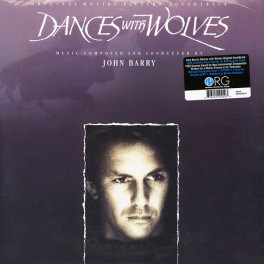 Maximize
Artist:
John Barry
Title:
Dances With Wolves
Catalog Number:
ORG 150
Label:
Epic
Reissued by:
ORG Original Recordings Group
Barcode:
858492002503
Original release year:
1990
Reissue year:
2014
Number of discs:
2
Revolutions per minute:
45 rpm
Disc size:
12"
Vinyl Weight Grade:
180gr
Limited Edition:
Yes
Numbered Edition:
Yes
Total Item Weight:
674gr
Pressing country:
USA
For Market Release in:
USA
Added to catalog on:
November 12, 2014
Note:
Never eligible for any further discounts
Vinyl Gourmet Club:
No
Academy and Grammy Award winning Original Motion Picture Soundtrack for Kevin Costner's 1990 epic western Dances With Wolves composed and conducted by John Barry. This profoundly moving music received the 1991 Academy Award for Best Original Score and the 1992 Grammy Award for Best Instrumental Composition for a Motion Picture. Cut by Bernie Grundman from Original Master Tapes!
Winnner 1991 Academy Award for Best Original Score

Winner 1992 Grammy Award for "Best Instrumental Composition Written for a Motion Picture or for Television"

Nominated for the 1991 Golden Globe Award for Best Original Score
Nominated for the 1992 BAFTA Award for Best Film Music
Limited Edition
Numbered Edition
Pressing Limited to 2500 Units Worldwide
Deluxe Laminated Gatefold Cover
Double LP Audiophile 180 Gram Vinyl Pressed at RTI USA
Mastered by Bernie Grundman
Mastered from the Original Analog Master Tapes
"The film won 7 Academy Awards in 1991, including Best Picture and Best Director, validated Costner's talent as a filmmaker, and effectively made the western 'bankable' again after years in the wilderness. It also marked the return to the film score world of John Barry. After completing work on The Living Daylights in 1987, the then 60-year old Barry was diagnosed with a rare type of throat disease, and for the better part of two years battled against it. When Basil Poledouris – who was Costner's original choice to score the film –decided to score Flight of the Intruder for his old friend John Milius instead, the project fell into Barry's lap. Having finally recovered from his ruptured oesophagus, he responded to Costner's film with what is arguably the greatest score of his career, an enormous, romantic, sweeping, theme-filled epic which characterizes everything that is great about the Englishman's music.

In recent years especially, many people have criticized Barry for being a one-theme-per-film composer, who repeats his motif ad nauseum through his scores. Dances With Wolves is the ultimate rebuttal to those criticisms. It's a grand, multi-layered work which contains at least eight different themes and variations, and several standalone set-pieces, all of which inhabit the same sonic world, and all of which are singularly stunning. The style, of course, is familiar: Dances With Wolves, in terms of orchestration, is similar to other classic scores of his, notably Out of Africa, High Road to China and Somewhere in Time. Where this score excels, however, it in its development, and in its scope. There is never a moment where one of the main themes is not carrying the weight of the emotion of the score, or where the themes are not playing off each other to expert effect.

The score actually begins somewhat unnervingly, with a dark, snare-led march underscoring Dunbar's sense of desperation at the Civil War, and screeching strings marking his desperate attempt to make the ultimate escape from its horrors, but which eventually proves to be his salvation through a triumphant brass-led finale. This dark opening leads into the first of the major motifs, "Ride to Fort Hayes", a grand, spacious string and brass theme which perfectly encapsulates the natural beauty and stunning grandeur of the American West; this continues on into the equally magnificent "Journey to Fort Sedgewick", which introduces a new thematic element, but retains the same sense of scope and majesty. The languid pacing of Barry's writing, combined with the effortless beauty of the theme itself, is intoxicating in a way which only Barry can achieve. Then, finally, the score moves into the first majestic performance of the film's main melody, "The John Dunbar Theme", a warm, hopeful, old-fashioned nostalgic piece for a lush symphony orchestra. It's a theme which somehow captures Dunbar's personality perfectly: optimistic, wholesome, romantic, but a little bit melancholy. Its second restatement in the 16th track features a glowing harmonica performance which brings back memories of his 1970 western score Monte Walsh, and is just wonderful. It's easily one of the most beautiful pieces John Barry has ever written." - Jonathan Broxton
Track Listing:

LP 1 Side A:
1. Main Title - Looks Like A Suicide
2. The John Dunbar Theme
3. Journey to Fort Sedgewick
4. Ride to Fort Hays
5. The Death of Timmons

LP 1 Side B:
1. Two Socks - The Wolf Theme
2. Pawnee Attack
3. Kicking Bird's Gift
4. Journey to the Buffalo Killing Ground
5. The Buffalo Hunt

LP 2 Side C:
1. Stands With a Fist Remembers
2. The Love Theme
3. The John Dunbar Theme
4. Two Socks at Play
5. The Death of Cisco

LP 2 Side D:
1. Rescue of Dances with Wolves
2. The Loss of the Journal and the Return to the Winter Camp
3. Farewell and End Title

Click here to listen to samples on YouTube.com ♫