Afro-Cuban All Stars A Toda Cuba Le Gusta 2LP 45rpm 180g Vinyl Bernie Grundman World Circuit EU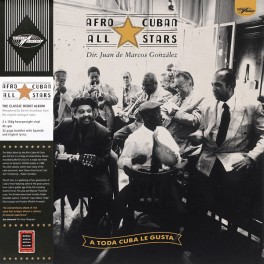 Maximize
Artist:
Afro-Cuban All Stars
Title:
A Toda Cuba Le Gusta
Catalog Number:
WCV047
Label:
World Circuit
Reissued by:
World Circuit
Barcode:
5056032314801
Original release year:
1997
Reissue year:
2018
Number of discs:
2
Revolutions per minute:
45 rpm
Disc size:
12"
Vinyl Weight Grade:
180gr
Total Item Weight:
621gr
Pressing country:
EU
For Market Release in:
EU
Added to catalog on:
November 27, 2021
Collection:
Buena Vista Social Club
Note:
Never eligible for any further discounts
Vinyl Gourmet Club:
No
A Toda Cuba le Gusta, the classic debut album by the Afro-Cuban All Stars is the first in a trilogy of extraordinary albums recorded by World Circuit in a single two-week session at Havana's EGREM studios, 1996. The other albums, which share many of the same personnel, were Buena Vista Social Club and Introducing Ruben Gonzalez. 45rpm cut by Bernie Grundman from the original analogue tapes.
Cut from Original Analog Master Tapes
Mastered by Bernie Grundman
Gatefold Cover
2LP 180 Gram Vinyl
Pressed at Record Industry
32 Page Booklet
Capturing the sound of the legendary soñeros of the 1950s golden age of Cuban big band music, 'A toda Cuba le gusta' was recorded in just six days and nights at the same time as the Buena Vista Social Club sessions. Bold and brassy, this is exhilarating and inspiring music.

The Afro-Cuban All Stars is a group created in 1996 by Juan de Marcos González to show the continuing vitality of the Cuban tradition. Their debut album was recorded in the EGREM studios in Havana just before the legendary Buena Vista Social Club recordings which Juan de Marcos was also instrumental in creating. Dubbed 'the Quincy Jones of Cuba', he has been a driving force behind the Cuban music revival since Buena Vista, its spin-off albums and the success of the Afro-Cuban All Stars.

Juan de Marcos González was born in Havana in 1954 and grew up surrounded by music (his father was a singer and performed with Arsenio Rodríguez amongst others). While at university in 1978 he co-founded the group Sierra Maestra. A traditional Cuban septeto group of strummed tres, trumpet, bass, percussion and vocals, the young band's aim was to bring about an appreciation of Cuban son by the youth of the island. The band recorded fourteen albums in Cuba and regularly toured abroad.

In 1994, they recorded ¡Dundunbanza! for World Circuit and Juan de Marcos began his association with the label. Nick Gold encouraged the group to expand their line-up to include piano, congas and a trumpet section in a tribute to the forties and fifties style of Arsenio Rodríguez.

Juan de Marcos had long harboured a dream to put together a band combining the 'old masters' and the new generation of Cuban musicians. "I wanted to mix the generations so there is the experience of the older guys and the energy of the younger players", he said. He recruited many 'retired' figures like Manuel 'Puntillita' Licea, Pío Leyva and Raúl Planas, all in their seventies. He also approached the legendary pianist Rubén González who no longer owned a piano and encouraged him to rehearse with his chosen bass player, Orlando 'Cachaíto' López. Thus the Afro-Cuban All Stars were born.

The plan was to record two albums in Havana's EGREM studios in 1996: the debut from the All Stars and a collaboration between West African and Cuban musicians for which Gold had invited Ry Cooder as producer. However things didn't turn out as planned. The Afro-Cuban All Stars album was recorded but when the Malian musicians couldn't make it, several of the All Star musicians were drawn into what became the Buena Vista Social Club and a solo recording by pianist Ruben González.

The All Stars album, A Toda Cuba le Gusta (All Of Cuba Likes It), released in 1997, has been rather overshadowed by its companion, but it was a hugely successful meeting of young and veteran musicians demonstrating the continuing energy of the Cuban tradition. While it harks back to the big bands of the mambo era, there's a youthful vitality about it. And it's the appreciation of the music within Cuba itself that González finds most satisfying. "When you live in an isolated country you always think things are better elsewhere. Young Cuban musicians didn't care about real Cuban music. Now there are hundreds of bands playing traditional music. Of course music will change, there will be new dances and styles. But we are going to keep the roots. I am very confident about that."

World Circuit released a second All Stars album, Distinto, Diferente (Unique, Different) in 1999. The follow up brought in some additional legendary figures of Cuban music including Omara Portuondo, Lina Borges, Polo Tamayo, Jesús 'Aguaje' Ramos, and Amadito Valdés and continued to celebrate the Cuban tradition while also incorporating some more modern styles.

Juan de Marcos and the All Stars went on to relaunch the career of Félix Baloy, another veteran singer, with albums on Tumi Music. He started his own label, DM Ahora, which released Afro-Cuban All Stars albums Step Forward in 2005 and Viva Mexico in 2017 as well as several live albums. Juan de Marcos is now based in the US and the Afro-Cuban All Stars, continually renewing, are still touring.
Musicians:

Baritone Saxophone, Flute – Javier Zalba
Bass – Orlando "Cachaíto" López
Bongos – Carlos González
Chorus – Amadito Valdés, Juan de Marcos González, Luis Barzaga
Congas – Miguel "Angá" Díaz
Guiro – Carlos Puisseaux
Maracas – Amadito Valdés
Piano – Rubén González
Producer – Nick Gold, Juan de Marcos González
Timbales – Julienne Oviedo Sanchez
Trombone – Carlos "El Afrokán" Alvarez, Demetrio Muñiz
Trumpet – Daniel Ramos, Luis Alemañy, Mañuel 'Guajiro' Mirabal
Track Listing:

LP1
01. Amor Verdadero
02. Alto Songo
03. Habana del Este
04. A Toda Cuba Le Gusta

LP2
05. Fiesta de la Rumba
06. Los Sitio' Asere
07. Pío Mentisoro
08. María Caracoles
09. Clasiqueando Con Rubén
10. Elube Changó
Click here to listen to samples on YouTube.com ♫