Loreena McKennitt Troubadours On The Rhine LP 180g Vinyl Numbered Limited Edition Quinlan Road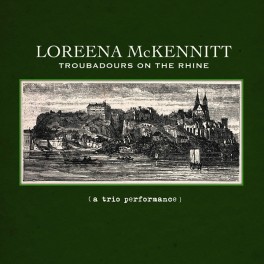 Maximize

Display all pictures
Artist:
Loreena McKennitt
Title:
Troubadours On The Rhine
Catalog Number:
QRLP115
Label:
Quinlan Road
Reissued by:
Quinlan Road
Barcode:
0774213501158
Original release year:
2012
Reissue year:
2016
Number of discs:
1
Revolutions per minute:
33⅓ rpm
Disc size:
12"
Vinyl Weight Grade:
180gr
Limited Edition:
Yes
Numbered Edition:
Yes
Total Item Weight:
316gr
Pressing country:
EU
For Market Release in:
Canada
Added to catalog on:
November 26, 2021
Note:
Never eligible for any further discounts
Vinyl Gourmet Club:
No
When Canadian singer Loreena McKennitt released her recording The Wind that Shakes the Barley in 2010, she visited several countries to help promote the album. During the promotional tour she performed an hour long concert in the studios of German radio station SWR1, accompanied only by Brian Hughes (guitars) and Caroline Lavelle (cello), who have long been part of her tours and recordings.
Limited Edition (5.000 Units)
Numbered Edition
180 Gram Vinyl
Pressed at Record Industry, Holland
Mastered by Bob Ludwig at Gateway Mastering
"The Canadian singer, Harpist and pianist with her angelic voice even a little closer even closer to heaven, even though a lot of reverb for ethereal floating. She proved this in 2011 in the studios of the Studios of the SWR, where she performed a kind of "best of of almost unplugged." (Good Times, April / May 2016)

Celebrating over thirty years as Canada's foremost, groundbreaking independent artist, Loreena McKennitt and her label Quinlan Road are pleased to announce the vinyl release of her 2011 recording Troubadours on the Rhine, recorded live in front of an invited audience at the Mainz studios of German radio broadcaster SWR1. Over the course of the evening of March 24th, 2011, McKennitt performed an hour long set drawn from the material on her then-current album, The Wind That Shakes The Barley, alongside traditional songs and fan favourites drawn from her catalogue, including The Lady of Shalott, Bonny Portmore and The Bonny Swans. During the promotional tour of Europe during which this performance took place, McKennitt was accompanied solely by Brian Hughes (guitars) and Caroline Lavelle (cello), who have long been part of her tours and recordings. Troubadours on the Rhine was initially released in February 2012 on CD and as a digital download on the artist's own label, Quinlan Road. The concert was released exactly as it was performed, without additional recording, overdubs or corrections. Troubadours on the Rhine was nominated for a Grammy Award in the same year.
Troubadours on the Rhine is the seventh in a series of collector's vinyl limited edition releases from Quinlan Road and Loreena McKennitt since 2010's The Wind That Shakes the Barley, a world-wide limited edition of just 5,000 copies, pressed at Record Industry in the Netherlands on 180g vinyl. As Loreena explains, 'We're excited about bringing more of my recordings into the vinyl format as more and more people discover its wonderful sonic strengths. This is an experience which has been largely lost over the past 15 years or so of this digital experiment we've been living. We have had a number of people share with us just how much they appreciate the sound of the vinyl as well as the pleasure of being able to hold the jacket in their hands and study the artwork, lyrics sleeve notes and credits'.
Track Listing:


Side A
01. Bonny Portmore
02. Down By the Sally Gardens
03. The Wind That Shakes the Barley
04. Between the Shadows
05. The Lady of Shalott


Side B
06. The Stolen Child
07. Penelope's Song
08. The Bonny Swans
09. The Parting Glass
Click here to listen to samples on YouTube.com ♫