Steve Nelson Jazz Quartet Jitterbug Waltz LP 180g Vinyl Tetsuo Hara Venus Hyper Magnum Sound Japan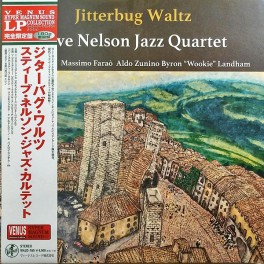 Maximize
Artist:
Steve Nelson
Title:
Jitterbug Waltz
Catalog Number:
VHJD-165
Label:
Venus Records
Reissued by:
Venus Records
Barcode:
4580051151181
Edition:
Venus Hyper Magnum Sound
Original release year:
2020
Reissue year:
2020
Number of discs:
1
Revolutions per minute:
33⅓ rpm
Disc size:
12"
Vinyl Weight Grade:
180gr
Limited Edition:
Yes
Total Item Weight:
375gr
Pressing country:
Japan
For Market Release in:
Japan
Added to catalog on:
November 17, 2021
Note:
Never eligible for any further discounts
Vinyl Gourmet Club:
No
Japanese audiophile label Venus Records is renowned for their great jazz music, high quality recordings and gorgeous artwork. Founded in 1992 by Tetsuo Hara, who had worked as a producer for RCA Victor, uses a signature mastering process named 'Venus Hyper Magnum Sound', a Direct Mix recording that results in incredible sound quality appreciated by music fans around the world.
Limited Edition
LP 180 Gram Audiophile Vinyl
High Quality Japanese Pressing
Mixed and Mastered by Tetsuo Hara
Venus Hyper Magnum Sound Direct Mix Stereo
Includes original OBI Strip
Deluxe Textured Cover
Made in Japan
New Modern Jazz Quartet Style On High Quality 180g Vinyl LP!

Steve Nelson is an American vibraphonist, and has been a member of Dave Holland's Quintet and Big Band for over a decade. He graduated from Rutgers University with both Master's and Bachelor's degrees in music, and his teaching activities have included a position at Princeton University. He has appeared at concerts and festivals worldwide and has made recordings as the leader of his own group. As a resident of the New York City area he has performed and recorded with many musicians, including Kenny Barron, Bobby Watson, Mulgrew Miller, David "Fathead" Newman, Johnny Griffin, and Jackie McLean.

Nelson performs with Massimo Farao (piano), Aldo Zunino (bass) and Byron "Wookie" Landham (drums) on this set that includes "Dexterity", "Monk's Dream", "Watch What Happens", and of course, "Jitterbug Waltz".
Recorded at Riverside Studio in Torino on December 10, 2018
Musicians:
Steve Nelson, vibraphone
Massimo Farao', piano
Aldo Zunino, bass
Byron "Wookie" Landham, drums
Track Listing:
Side A
01. Close Your Eyes
02. Monk's Dream
03. Jitterbug Waltz
Side B
04. Dexterity
05. Steve's Blues
06. Watch What Happens