Takeshi Inomata & Sound Limited Sounds Of Sound L.T.D. LP Project Re:Vinyl Deep Jazz Reality 2018 Japan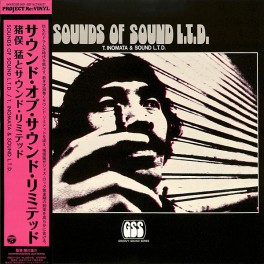 Maximize
Drummer who led the jazz scene in Japan with accurate stick work and musicality and an eye on the times, Takeshi Inomata's first album with Sound Limited formed at the end of the 60's. Starting with the theme song 'Mustache', which is beloved as one of the most iconic songs, it is a masterpiece full of dynamism and enthusiasm throughout.
Limited Edition
Deep Jazz Reality series
Project Re:Vinyl edition from HMV Japan
Presented by Universounds
Produced by Yusuke Ogawa
Mastered and Pressed in

Japan

!
Includes OBI Strip
It's hard to beat these premium sounds from the golden age of Japanese jazz-funk during the 70's on these perfect reissues mastered and pressed in Japan. Of course top quality is to be expected from Universounds Deep Jazz Reality series curated and produced by Yusuke Ogawa, the best Japanese music Made In Japan!
Jazz drummer and bandleader Takeshi Inomata made some terrific records over the course of his career, though few are quite as dazzling and incendiary as Sounds of Sound Ltd, his 1970 set with regular studio band Sound Ltd. Appearing at a time when the boundaries between jazz, jazz-funk and jazz-rock were becoming increasingly blurred, the set delivers good grooves, mazy solos and life-affirming musical motifs in equal measure. Throw in a wealth of energetic, on-point drum solos from Inomata and you have a set that sounds every bit as righteous and inspired in 2021 as it did half a century ago.

A killer funky group from early 70s Japan – a slightly large ensemble, but one with some really heavy drums at the bottom – plus some great use of organ and electric guitar! There's a tight brace of horns at the top – flute, tenor, trumpets, and trombone – but the rhythms are what really drive the record, and give the whole thing a sometimes-funky, always-groovy quality that never lets up! The mode is almost soundtrack funk at times – jazz, but filled with some rich colors and expansive tones too – and there's a sophistication here that really rewards repeated listenings, but never gets in the way of the groovier moments too. Titles include "Theme Mustache", "Tak's Tune", "Joint", "Monster", "Lullaby For Yuh", and "Scotland Scene".
Musicians:

Bass – Jun Suzuki
Drums – Takeshi Inomata
Flute – Toshiaki Yokota
Guitar – Ryo Kawasaki, Shigenori Kamiya
Organ – Yusuke Hoguchi
Tenor Saxophone – Takao Uematsu
Trombone – Shigemichi Domoto, Takashi Imai
Trumpet – Shunzo Ohno, Takashi Kumagai

Track Listing:
01. Theme-Mustache
02. Tak's Tune
03. Joint
04. Monster
05. Lullaby For Yuh
06. Scotland Scene
07. Theme
Click here to listen to samples on YouTube.com ♫