Charles Mingus Mingus at Carnegie Hall 3LP 180 Gram Vinyl Atlantic Run Out Groove 2021 USA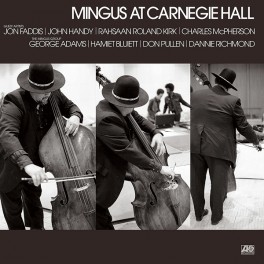 Maximize

Display all pictures
Artist:
Charles Mingus
Title:
Mingus at Carnegie Hall
Catalog Number:
ROGV-134
Label:
Atlantic
Reissued by:
Run Out Groove
Barcode:
081227890100
Edition:
Deluxe Edition
Original release year:
1974
Reissue year:
2021
Number of discs:
3
Revolutions per minute:
33⅓ rpm
Disc size:
12"
Vinyl Weight Grade:
180gr
Total Item Weight:
881gr
For Market Release in:
USA
Added to catalog on:
November 2, 2021
Note:
Never eligible for any further discounts
Vinyl Gourmet Club:
No
Originally recorded on January 19, 1974, Mingus At Carnegie Hall features Jon Faddis, Charles McPherson, John Handy, George Adams, Rahsaan Roland Kirk, Hamiet Bluiett, Don Pullen, and Dannie Richmond. The original concert includes 2 hours of performances. After 47 years Run Out Groove's full deluxe 180g vinyl 3LP reissue comes complete with new photos and liner notes by Michael Cuscuna.
Deluxe Limited Edition
3LP 180 Gram Vinyl
Over 72 minutes of previously unreleased material
Complete 1974 set at Carnegie Hall
Played in its original order for the first time
Mastered from the original tapes
Previously unseen photos from original photographer Gosta Peterson
New liner notes from jazz historian & producer, Michael Cuscuna
Triple Gatefold Cover
Deluxe Limited Edition 180g Vinyl 3LP! Complete Set At Carnegie Hall Played In Its Original Order For The First Time! Mastered/Lacquered & Sourced From The Original Tapes For Maximum Fidelity! With Over 72 Minutes Of Previously Unreleased Material!
A bigger than life icon, Charles Mingus is considered one of the greatest jazz musicians and composers in history with a career spanning three decades and collaborations with other jazz legends such as Louis Armstrong, Duke Ellington, Charlie Parker, Dizzy Gillespie and Herbie Hancock.
With jazz music on the wane commercially back in 1974, Atlantic Records decided to release Mingus At Carnegie Hall with just two encore songs featuring guest artists Rahsaan Roland Kirk, Charles McPherson, and John Handy. But lo and behold, discovered among the many rows of tapes at the Warner Vaults, were several analog reels containing 74 minutes of previously unreleased live performances of the Charles Mingus Group featuring Don Pullen, Jon Faddis, George Adams, Hamiet Bluiett and Dannie Richmond at Carnegie Hall on January 19, 1974. After almost 50 years, jazz fans will get the special opportunity to hear the complete concert as it was originally played and in the correct sequence, by this ground-breaking group of musicians.
Originally recorded in January 19, 1974, Mingus At Carnegie Hall was released as a 1LP that only featured 2 long tracks ("C Jam Blues" and "Perdido") from the concert; one track per LP side, and features Jon Faddis, Charles McPherson, John Handy, George Adams, Rahsaan Roland Kirk, Hamiet Bluiett, Don Pullen, and Dannie Richmond. Yet the original concert in January of '74 included 2 hours of performances, but nearly 70+ minutes were left on the cutting room floor. With jazz music on the decline in the US in the 1970s, Atlantic Records was probably concerned about releasing a 3LP set at a higher price point that only the most ardent fans would purchase at the time.

Well after 47 years and in honor of 2021's Black Music Month, Run Out Groove has righted the course of this ship, issuing the complete 1974 Mingus At Carnegie Hall album with over 72 minutes of unreleased material and putting the original running order of the concert in correct sequence. The deluxe 3LP set features never-before-seen photos taken by original photographer Gosta Peterson and new liner notes by Jazz historian and producer, Michael Cuscuna.

One of the most important figures in twentieth century American music, Charles Mingus was a virtuoso bass player, accomplished pianist, band leader and composer. Born on a military base in Nogales, Arizona in 1922 and raised in Watts, California, his earliest musical influences came from the church - choir and group singing - and from "hearing Duke Ellington over the radio when [he] was eight years old." His early professional experience, in the '40s, found him touring with bands like Louis Armstrong, Kid Ory and Lionel Hampton. Mingus' career has spanned three-decades and he collaborated with other jazz legends such as Louis Armstrong, Duke Ellington, Charlie Parker, Dizzy Gillespie, and Herbie Hancock.

Mingus' compositions retain the hot and soulful feel of hard bop, drawing heavily from black gospel music and free jazz, and classical music. Because of his brilliant writing for midsize ensembles, and his catering to and emphasizing the strengths of the musicians in his groups, Mingus is often considered the heir of Duke Ellington. From the 1960s until his death in 1979 at age 56, Mingus remained in the forefront of American music. When asked to comment on his accomplishments, Mingus said that his abilities as a bassist were the result of hard work but that his talent for composition came from God. He died in Mexico on January 5, 1979, and his wife, Sue Graham Mingus, scattered his ashes in the Ganges River in India. Both New York City and Washington, D.C. honored him posthumously with a "Charles Mingus Day."
Musicians:

Charles Mingus, bass
Don Pullen, piano
George Adams, tenor saxophone
Jon Faddis, trumpet
Hamiet Bluiett, baritione saxophone
Dannie Richmond, drums
Charles MacPherson, alto saxophone ("Perdido," "C Jam Blues")
John Handy, alto saxophone & tenor saxophone ("Perdido," "C Jam Blues")
Rahsaan Roland Kirk, tenor saxophone & stritch ("Perdido," "C Jam Blues")
Track Listing:


LP1
01. Introduction (Previously Unavailable On Vinyl)
02. Peggy's Blue Skylight (Previously Unavailable On Vinyl)
03. Celia (Previously Unavailable On Vinyl)

LP2
04. Fables Of Faubus (Previously Unavailable On Vinyl)
05. Big Alice (Previously Unavailable On Vinyl)

LP3
06. Perdido
07. C Jam Blues
Click here to listen to samples on YouTube.com ♫