Bill Evans Trio 64 LP 180 Gram Vinyl Sterling Sound Verve Acoustic Sounds Series QRP 2021 USA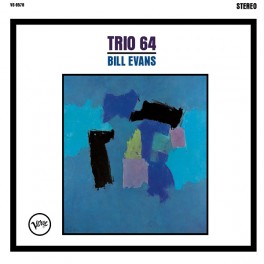 Maximize

Display all pictures
Artist:
Bill Evans
Title:
Trio 64
Catalog Number:
B0033123-01 / V6-8578
Label:
Verve
Reissued by:
Verve Records
Barcode:
602435346038
Original release year:
1964
Reissue year:
2021
Number of discs:
1
Revolutions per minute:
33⅓ rpm
Disc size:
12"
Vinyl Weight Grade:
180gr
Total Item Weight:
539gr
Pressing country:
USA
For Market Release in:
USA
Added to catalog on:
October 18, 2021
Collection:
Acoustic Sounds Series
Note:
Never eligible for any further discounts
Vinyl Gourmet Club:
No
Seeking to offer audiophile grade versions of some of the best jazz records ever made, Verve and Universal Music new audiophile Acoustic Sounds Series is supervised by Chad Kassem, utilizing the skills of top mastering engineers and the craft of Quality Record Pressings, with all titles being mastered from the original analog tapes, pressed on 180g vinyl and packaged by Stoughton Printing.
Acoustic Sounds Series
Mastered from the Original Analog Master Tapes
Cut by Ryan K. Smith at Sterling Sound
Audiophile 180 Gram Vinyl LP
Pressed at Quality Record Pressings, QRP USA
Deluxe Gatefold cover by Stoughton Printing
"The relatively short program approximately 15 minutes to a side allowed mastering engineer Ryan K. Smith to put all of what's on the tape into the grooves without going anywhere close to the label. The QRP pressing was dead silent and the Stoughton laminated Tip-on jacket is as pleasing to look at as it is satisfying to the touch. This reissue wins compared to an oft-played, finely produced Japanese Polydor reissue (23MJ 3033), though that one is also very good. This reissue is as good as any to explain in sound what AAA vinyl is all about, plus of course the performance will every play elevate your mood and get your toes tapping. How these guys brought that lighthearted a mood to a session recorded a month after the Kennedy assassination remains difficult to understand, but it was just what the jazz record buying public needed." - Michael Fremer, Analog Planet, Music 9/11, Sound 9/11

There's scarcely a more towering figure in modern jazz — save Miles and Coltrane — than the great Bill Evans. His relaxed and emotional style at the piano would prove influential to not only his peers but to generations of pianists who would follow him.

It also doesn't hurt, points out thejazzrecord.com, that he appeared on (and had great influence over the direction of) Kind Of Blue and that the two LPs from his trio's landmark stint at the Village Vanguard in 1961 (Waltz For Debby and Sunday At The Village Vanguard) are both stone-cold classics.

The excellent Trio 64 marked Evans' first trio album after a move to Verve from his previous home at Riverside Records. While the work Evans' did with his first trio featuring Scott LaFaro and Paul Motian (particularly the Village Vanguard recordings) remains by far his most popular and lauded work, even after LaFaro's tragic death in 1961 he continued to improve upon and refine his particular brand of soulful and introspective playing.

Trio 64 marked a reunion with Motian and Evans' only recorded work with the talented bassist Gary Peacock. The album matches up with Evans' finest trio sessions, with his shimmering piano lines dancing between Peacock's sharp bass lines and Motian's usual sublime work on the drums. Peacock was a perfect match for Evans, he was a kindred spirit when it came to not simply following the musical trends of the day, as evidenced by his time spent with the likes of Albert Ayler and Paul Bley a few years after the recording of Trio 64.

The song selection shows how Evans was able to take even the most rote pop songs of the day and transform them into unabashed works of modern jazz. Is there another pianist of the era who would attempt a take on "Santa Claus Is Coming To Town" (the album was recorded December 18th, so why not throw in a Christmas tune) or "Little Lulu" (the theme from a 1940s cartoon of the same name) and so successfully have them come off as if they were jazz standards all along? Even more impressive is that this was the first time that Evans had played with Peacock, and yet there is no sense of hesitation in either musician's interaction with each other, it sounds like they've been playing together for years.
Musicians:

Bill Evans - piano
Gary Peacock - bass
Paul Motian - drums

Track Listing:

Side A
01. Little Lulu
02. A Sleeping Bee
03. Always
04. Santa Claus Is Coming To Town
Side B
05. I'll See You Again
06. For Heaven's Sake
07. Dancing In The Dark
08. Everything Happens To Me
Click here to listen to samples on YouTube.com ♫