Steve Kuhn Trio Temptation LP 180 Gram Vinyl Tetsuo Hara Venus Records Hyper Magnum Sound Japan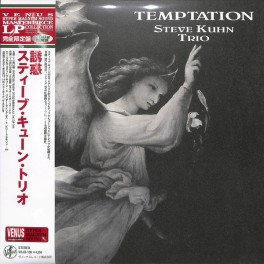 Maximize
Japanese audiophile label Venus Records is renowned for their great jazz music, high quality recordings and gorgeous artwork. Founded in 1992 by Tetsuo Hara, who had worked as a producer for RCA Victor, uses a signature mastering process named 'Venus Hyper Magnum Sound', a Direct Mix recording that results in incredible sound quality appreciated by music fans around the world.
Limited Edition
LP 180 Gram Audiophile Vinyl
High Quality Japanese Pressing
Mixed and Mastered by Tetsuo Hara
Venus Hyper Magnum Sound Direct Mix Stereo
Venus Masterpiece Collection
Includes original OBI Strip
Deluxe Textured Cover
Made in Japan
2001 studio sessions with bassist Buster Williams and drummer Billy Drummond

"... Kuhn finds new directions in these timeless pieces. ... It's hard to go wrong by purchasing any Steve Kuhn, and this is among his best dates." — AllMusic

Throughout a career of a half-century and counting, Steve Kuhn has earned renown as one of the most lyrical and affecting pianists in jazz, with an unfailingly beautiful touch and a sophisticated sense of swing. "Steve is an original stylist," points out Dan Morgenstern, director of the Institute of Jazz Studies at Rutgers. "He's one of the finest pianists out there today." JazzIz magazine described Kuhn's distinctive sound: "Few other pianists, regardless of genre, can tease such an evocative range of timbres from their instrument. Kuhn's lower register is as dark and rich as Belgian chocolate, and his upper register has the light, translucent quality of ice-cold champagne."

Steve Kuhn has made a dozen recent albums for the Venus label. Here Kuhn performs a collection of standards and forgotten gems.
Musicians:
Steve Kuhn, piano
Buster Williams, bass
Billy Drummond, drums
Track Listing:
Side A
1. Dark Eyes
2. I Can't Get Started
3. Love Is Here To Stay
4. Django
Side B
5. The Summer Knows
6. Temptation
7. You Better Go Now
Click here to listen to samples on YouTube.com ♫