Led Zeppelin IV LP 180 Gram Vinyl Original Edition 2014 Remastered by Jimmy Page Optimal Germany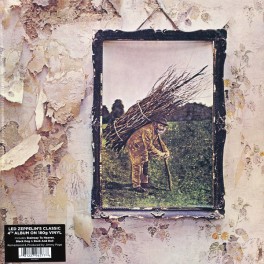 Maximize

Display all pictures
Artist:
Led Zeppelin
Title:
Led Zeppelin IV
Catalog Number:
8122-79657-7
Label:
Atlantic
Reissued by:
Atlantic
Barcode:
081227965778
Original release year:
1971
Reissue year:
2014
Number of discs:
1
Revolutions per minute:
33⅓ rpm
Disc size:
12"
Vinyl Weight Grade:
180gr
Total Item Weight:
368gr
Pressing country:
Germany
For Market Release in:
EU
Added to catalog on:
November 10, 2014
Collection:
Jimmy Page Remasters 2014
Note:
Not eligible for any further discounts
Vinyl Gourmet Club:
No
Led Zeppelin 2104 Remasters continues with Led Zeppelin IV, one of the most influential and successful albums of all time. Released in 1971, the album which is officially untitled, defined the sound of rock music for generations with anthems such as "Stairway To Heaven", "Rock And Roll", "Black Dog" and "When The Levee Breaks". Remastered by John Davis with Jimmy Page from Original Master Tapes.
Original Album on 180 Gram Vinyl
Remastered by John Davis with Jimmy Page at Metropolis
Remastered from the Original Master Tapes transferred to 24/192kHz
Pressed at Optimal in Germany on Audiophile grade vinyl
Exact reproduction of original artwork and cover design

Led Zeppelin IV was inducted into the Grammy Hall of Fame in 1999 and has been certified 23x platinum by the RIAA.


In 1968, John Bonham, John Paul Jones, Jimmy Page and Robert Plant formed Led Zeppelin, one of the most influential, innovative and successful groups in modern music. The band has sold more than 300 million albums worldwide with a celebrated catalog including such landmark songs as "Whole Lotta Love", "Kashmir", "Rock And Roll", "When The Levee Breaks" and "Stairway To Heaven". The band rose from the ashes of The Yardbirds, when Page brought in Plant, Bonham and Jones to tour as The New Yardbirds. In 1969, Led Zeppelin released its self-titled debut. It marked the beginning of a 12-year reign, during which the group was widely considered to be the biggest rock band in the world.

Led Zeppelin continues to be honored for its pivotal role in music history. The band was inducted into the Rock & Roll Hall of Fame in 1995, received a Grammy Lifetime Achievement Award in 2005, and a year later was awarded with the Polar Music Prize in Stockholm. Founding members Jones, Page and Plant - along with Jason Bonham, the son of John Bonham - took the stage at London's O2 Arena in 2007 to headline a tribute concert for Ahmet Ertegun, a dear friend and Atlantic Records' founder. The band was honored for its lifetime contribution to American culture at the Kennedy Center Honors in 2012. In January of 2014, the band won their first ever Grammy award as Celebration Day, which captured their live performance at the Ertegun tribute concert, it was named Best Rock Album.

No matter how many times you may have listened to their music, you've never heard Led Zeppelin like this before.

Painstakingly remastered from the Original Master Tapes by guitarist Jimmy Page, and pressed at Optimal in Germany, this Original Edition 180g LP of Led Zeppelin IV sounds amazing. Jimmy Page spent years on this project with one goal in mind: Making these reissues the definitive editions of his iconic band's records. In addition to the reference audio, each LP features packaging that fully replicates the look of the first pressing of the original album.


Track Listing:

Original 1971 album remastered

1. Black Dog
2. Rock And Roll
3. The Battle of Evermore
4. Stairway To Heaven
5. Misty Mountain Hop
6. Four Sticks
7. Going To California
8. When The Levee Breaks


Click here to listen to samples on AllMusic.com