Eddie Higgins Trio Again LP 180 Gram Vinyl Tetsuo Hara Venus Records Hyper Magnum Sound Japan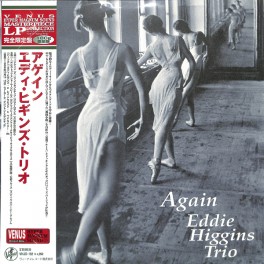 Maximize
Japanese audiophile label Venus Records is renowned for their great jazz music, high quality recordings and gorgeous artwork. Founded in 1992 by Tetsuo Hara, who had worked as a producer for RCA Victor, uses a signature mastering process named 'Venus Hyper Magnum Sound', a Direct Mix recording that results in incredible sound quality appreciated by music fans around the world.
Limited Edition
LP 180 Gram Audiophile Vinyl
High Quality Japanese Pressing
Mixed and Mastered by Tetsuo Hara
Venus Hyper Magnum Sound Direct Mix Stereo
Venus Masterpiece Collection
Includes original OBI Strip
Deluxe Textured Cover
Made in Japan
Superior jazz from a celebrated trio on 180-gram vinyl

Through his numerous releases from Venus Records, Eddie Higgins has firmly established his position as one of the most celebrated jazz pianists in Japan.

Veteran jazz pianist Eddie Higgins has performed and recorded with many of the biggest names in jazz, including Coleman Hawkins, Jack Teagarden, Stan Getz, Dizzy Gillespie and Wayne Shorter. His discography as a bandleader includes more than 25 recordings.

On this release, Higgins is joined by Ray Drummond on bass and Ben Riley on drums.
Musicians:
Eddie Higgins, piano
Ray Drummond, bass
Ben Riley, drums
Track Listing:
Side A
1. Again
2. How Insensitive
3. My Romance
4. My Foolish Heart
Side B
5. Polka Dots And Moonbeams
6. Now Please Don't You Cry, Beautiful Edith
7. Will You Still Be Mine?
8. I'll Never Be The Same
Click here to listen to samples on YouTube.com ♫