Eric Alexander Quartet Gentle Ballads II LP 180g Vinyl Venus Records Hyper Magnum Sound Japan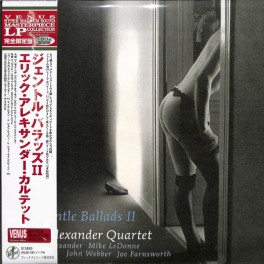 Maximize
Japanese audiophile label Venus Records is renowned for their great jazz music, high quality recordings and gorgeous artwork. Founded in 1992 by Tetsuo Hara, who had worked as a producer for RCA Victor, uses a signature mastering process named 'Venus Hyper Magnum Sound', a Direct Mix recording that results in incredible sound quality appreciated by music fans around the world.
Limited Edition
LP 180 Gram Audiophile Vinyl
High Quality Japanese Pressing
Mixed and Mastered by Tetsuo Hara
Venus Hyper Magnum Sound Direct Mix Stereo
Venus Masterpiece Collection
Includes original OBI Strip
Deluxe Textured Cover
Made in Japan
Second in series from highly accomplished jazz musicians on 180-gram vinyl!
The quartet of Eric Alexander, Mike LeDonne, John Webber and Joe Farnsworth perform ballads such as "Mona Lisa", Ellington's "I Got It Bad" and Bacharach's "Look Of Love".

Produced by Tetsuo Hara & Todd Barkan
Recorded at The Studio in New York on March 22, 2006
Engineered by Katherine Miller
Mixed and Masterd by Venus Hyper Magnum Sound : Shuji Kitamura and Tetsuo Hara
Musicians:
Eric Alexander, tenor sax
Mike LeDonne, piano
John Webber, bass
Joe Farnsworth, drums
Track Listing:
Side A
1. Mona Lisa
2. Look Of Love
3. I'm A Fool To Want You
Side B
4. Funny
5. My Ship
6. I Got It Bad (And That Ain't Good)
Click here to listen to samples on YouTube.com ♫