McCoy Tyner Expansions LP 180 Gram Vinyl Kevin Gray Blue Note Records Tone Poet RTI 2021 USA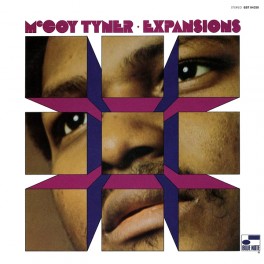 Maximize

Display all pictures
Blue Note Records Tone Poet Audiophile Vinyl Reissues. Joe Harley co-founder of the acclaimed Music Matters Jazz audiophile vinyl label is the producer of this new series, handpicked titles mastered from the original master tapes on 180g Vinyl in deluxe covers. Mastering is done by Kevin Gray at Cohearent Audio and vinyl is pressed at Record Technology Incorporated, RTI in the USA.
Tone Poet Audiophile Vinyl Reissue Series
Blue Note 80th Anniversary
All Analog Mastering
Cut by Kevin Gray at Cohearent Audio
Mastered From Original Analog Master Tapes
Reissue supervised by Joe Harley (Music Matters)
180 Gram Audiophile Vinyl Pressed at RTI USA
Deluxe Cover
The Blue Note Tone Poet Series was born out of Blue Note President Don Was' admiration for the exceptional audiophile Blue Note LP reissues presented by Music Matters. Was brought Joe Harley (from Music Matters), a.k.a. the "Tone Poet," on board to curate and supervise a series of reissues from the Blue Note family of labels.

Extreme attention to detail has been paid to getting these right in every conceivable way, from the jacket graphics and printing quality to superior LP mastering (direct from the master tapes) by Kevin Gray to superb 180-gram audiophile LP pressings by Record Technology Inc. Every aspect of these Blue Note/Tone Poet releases is done to the highest possible standard. It means that you will never find a superior version. This is it!

"Per Don Was's direction, everything about this reissue series closely mirrors the Music Matters releases that so impressed Was..." - Michael Fremer, Analogplanet
Pianist McCoy Tyner was an acknowledged force of nature. On the aptly-named Expansions, Tyner fronts a remarkable band consisting of Woody Shaw on trumpet, Wayne Shorter on tenor saxophone, Gary Bartz on alto saxophone, Ron Carter on cello, Herbie Lewis on bass, and Freddie Waits on drums. Stand-out tracks in a program of four Tyner originals and one standard include the timeless masterpiece "Peresina" and the immersive opening track "Vision."
"Of pianist McCoy Tyner's seven Blue Note albums of the 1967-1970 period, Expansions is the most definitive." - Scott Yanow, AllMusic

"Joined by a crack ensemble featuring, among others, Wayne Shorter on tenor sax, Ron Carter on cello and bassist Herbie Lewis, this LP finds the prickly midpoint between jazz's modal interests and its growing avant garde school. Tyner rarely sounded as playful as he does throughout, particularly on his original compositions which find him splashing at times like a faulty player piano and pushing against the smoothness of Shorter, alto saxophonist Gary Bartz and trumpeter Woody Shaw with rough stabs of notes and fiery melodic bursts." - Robert Ham, Paste Magazine
Musicians:
Alto Saxophone – Gary Bartz
Bass – Herbie Lewis
Cello – Ron Carter
Clarinet – Wayne Shorter (tracks: A2)
Drums – Freddie Waits
Flute – Gary Bartz (tracks: A2)
Piano – McCoy Tyner
Tenor Saxophone – Wayne Shorter
Trumpet – Woody Shaw
Producer – Duke Pearson
Recorded By – Rudy Van Gelder
Track Listing:
Side A
01. Vision
02. Song Of Happiness


Side B
03. Smitty's Place
04. Peresina
05. I Thought I'd Let You Know
Click here to listen to samples on YouTube.com ♫