Sonny Rollins On Impulse! LP 180 Gram Vinyl Sterling Impulse Acoustic Sounds Series QRP 2021 USA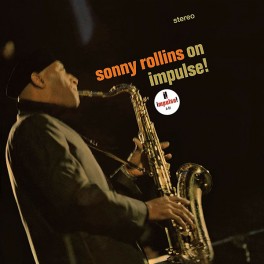 Maximize

Display all pictures
Artist:
Sonny Rollins
Title:
On Impulse!
Catalog Number:
B0033427-01 / Impulse A-91
Label:
Impulse!
Reissued by:
Impulse!
Barcode:
602435669090
Original release year:
1965
Reissue year:
2021
Number of discs:
1
Revolutions per minute:
33⅓ rpm
Disc size:
12"
Vinyl Weight Grade:
180gr
Total Item Weight:
521gr
Pressing country:
USA
For Market Release in:
USA
Added to catalog on:
September 21, 2021
Collection:
Acoustic Sounds Series
Note:
Never eligible for any further discounts
Vinyl Gourmet Club:
No
Seeking to offer audiophile grade versions of some of the best jazz records ever made, Verve and Universal Music new audiophile Acoustic Sounds Series is supervised by Chad Kassem, utilizing the skills of top mastering engineers and the craft of Quality Record Pressings, with all titles being mastered from the original analog tapes, pressed on 180g vinyl and packaged by Stoughton Printing.
Acoustic Sounds Series
Mastered from the Original Analog Master Tapes
Cut by Ryan K. Smith at Sterling Sound
Audiophile 180 Gram Vinyl LP
Pressed at Quality Record Pressings, QRP USA
Deluxe Gatefold cover by Stoughton Printing
The first of Sonny Rollins' albums for Impulse!, this 1965 collection caught Rollins at the peak of his creative powers, and is arguably the tenor hero's best for the label - an intense, freewheeling set, featuring classic takes on "On Green Dolphin Street" and "Three Little Words" in the company of Ray Bryant (piano), Walter Booker (bass) and Mickey Roker (drums).

"If anything, Sonny Rollins on Impulse! feels as if it were a recording Rollins had to get out of his system. But thank goodness for us because it's a winner through and through." — AllMusic

Seeking to offer definitive audiophile grade versions of some of the most historic and best jazz records ever recorded, Verve Label Group and Universal Music Enterprises' new audiophile Acoustic Sounds vinyl reissue series utilizes the skills of top mastering engineers and the unsurpassed production craft of Quality Record Pressings. All titles are mastered from the original analog tapes, pressed on 180-gram vinyl and packaged by Stoughton Printing Co. in high-quality gatefold sleeves with tip-on jackets. The releases are supervised by Chad Kassem, CEO of Acoustic Sounds, the world's largest source for audiophile recordings.

In 1965 and 1966, tenor giant Sonny Rollins issued three albums for the Impulse! label. They were his last until 1972 when he re-emerged from a self-imposed retirement. Here on this July 8, 1965 date, Rollins attacks five standards with a quartet that included pianist Ray Bryant, bassist Walter Booker and drummer Mickey Roker.

Rollins digs deeply into pulse and rhythm, leaving melody to take care of itself. AllMusic says "This is not a 'new thing' date but instead focuses on playing according to the dictates of the rhythm section and on interchanging with Booker and Roker, leaving much of the melodic aspect of these tunes to Bryant. Rollins could never quite leave the melody out of anything he played because of his intense gift as a lyrical improviser; he nonetheless stripped his approach back and played tunes like 'On Green Dolphin Street' by improvising according to theme rather than strict melody, where his interplay with the rhythm section becomes based on the dynamic and shifting times played by Roker. While things are more intimate and straight on 'Everything Happens to Me,' he nonetheless plays the edges, filling the space like a drummer. Melody happens throughout, the tune is recognizable, but it is stretched in his solo to a theme set by the shimmering cymbals and brushed snare work of Roker. The oddest cuts in the set are the last two; spaced out readings of 'Blue Room,' and 'Three Little Words'; they sound as if he were preparing the listener for a true change in his approach.

"Melody gets inverted, with spaces and syncopation taking the place of notes. The swing is inherent in everything here, but it's clear that the saxophonist was hearing something else in his head, the way he squeezes notes tightly into some phrases where they might be placed elsewhere, and substitutes small, lithe lines inside Bryant's solos which dictate the harmonic intervals more conventionally with his singing approach. And speaking of rhythm, the album's hinge piece is the burning calypso 'Hold "Em Joe.' Here again, as Bryant's changes play it straight, Rollins shoves his horn inside them and draws out the beat on his horn over and over again."
Musicians:

Sonny Rollins - tenor saxophone
Ray Bryant - piano
Walter Booker - bass
Mickey Roker - drums

Track Listing:
Side A
01. On Green Dolphin Street
02. Everything Happens To Me

Side B
03. Hold 'Em Joe
04. Blue Room
05. Three Little Words
Click here to listen to samples on YouTube.com ♫