Alt-J This Is All Yours 2LP Colored Vinyl Gatefold Cover + Download 2014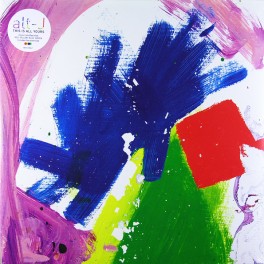 Maximize

Display all pictures
Artist:
Alt-J
Title:
This Is All Yours
Catalog Number:
INFECT200LP
Label:
Infectious Music
Barcode:
5050954421715
Edition:
Colored Vinyl
Original release year:
2014
Number of discs:
2
Revolutions per minute:
33⅓ rpm
Disc size:
12"
Extras:
Download Code
Total Item Weight:
621gr
Pressing country:
EU
For Market Release in:
EU
Added to catalog on:
November 2, 2014
Note:
Not eligible for any further discounts
Vinyl Gourmet Club:
No
Alt-J won the 2012 Mercury Prize with their debut album An Awesome Wave, and now they're back with This Is All Yours that reached number one spot on the Official UK Charts upon release in 2014. Now a trio consisting of guitarist/vocalist Joe Newman, drummer Thom Green and keyboardist/vocalist Gus Unger-Hamilton, they still have all the new sounds and creative fire!
Double LP in a gatefold sleeve will feature assorted coloured vinyl: a random selection of colours for each record, with six combinations in total.
On May 25, 2012, alt-J released their debut album An Awesome Wave, which won the 2012 British Barclaycard Mercury Prize. Alt-J were also nominated for three Brit Awards (British Breakthrough Act, British Album of the Year and British Group of the Year). The bassist Gwil Sainsbury left the band in January 2014. The band began recording the album in April 2014. It was recorded in the same place as An Awesome Wave, Iguana Studios, which Gus Unger-Hamilton described as "a tiny little place, sort of behind a second hand tyre shop". This Is All Yours would go on to reach Number 1 on the UK's Official Albums Chart on 28 September 2014.

The majority of the songs on the album were written while touring their debut album, An Awesome Wave, while newer ones such as "Hunger of the Pine" were written in "a really cool little converted Warehouse in Hackney, very cliché East London". Unger-Hamilton said that the "song cycle" of the album is made up of "Arrival in Nara", "Nara" and "Leaving Nara", Nara being a city in Japan. "Hunger of the Pine" was one of the songs written after their bass player Gwil Sainsbury left in January 2014. The song features a sample of the song "4x4" by Miley Cyrus, of her singing "I'm a female rebel". The sample originally came from a remix Thom Green, alt-J's drummer, made for Miley Cyrus. Joe Newman said "I was playing the guitar and Thom was responding to what I was doing on Ableton and before we knew it, we'd come up with this really interesting structure, and I came up with lyrics for it quite quickly." Gus Unger-Hamilton said "it sounded cool with what Joe was playing on the guitar." The band asked Miley Cyrus if they could use the sample, which Newman said she was "cool with it". He said that Miley Cyrus has "been really supportive of us, and she's a fan, I think, which is really nice."
Track Listing:
01. Intro
02. Arrival in Nara
03. Nara
04. Every Other Freckle
05. Left Hand Free
06. Garden of England
07. Choice Kingdom
08. Hunger Of The Pine
09. Warm Foothills
10. The Gospel of John Hurt
11. Pusher
12. Bloodflood pt.II
13. Leaving Nara