Impulse Records Music Message And The Moment 4LP Vinyl Deluxe Box Impulse 60th Anniversary QRP USA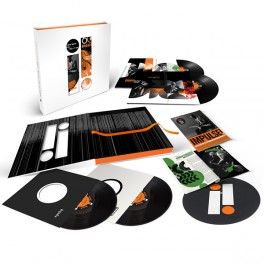 Maximize

Display all pictures
Artist:
Various
Title:
Music Message And The Moment
Catalog Number:
B0033423-01
Label:
Impulse!
Reissued by:
Impulse!
Barcode:
602435671871
Edition:
60th Anniversary Edition
Original release year:
2021
Number of discs:
4
Revolutions per minute:
33⅓ rpm
Disc size:
12"
Limited Edition:
Yes
Numbered Edition:
Yes
Total Item Weight:
1875gr
Pressing country:
USA
For Market Release in:
USA
Added to catalog on:
August 25, 2021
Note:
Never eligible for any further discounts
Vinyl Gourmet Club:
No
USA version of this Numbered Limited Edition Impulse! 60th Anniversary Deluxe 4LP Box Set, mastered at Sterling Sound and pressed at QRP. 2021 marks the 60th anniversary of Impulse Records, home to such pioneering jazz artists as John Coltrane, Charles Mingus, Pharoah Sanders, Quincy Jones and more. As a centerpiece to the celebrations, Impulse! takes a look back at its first decade.
USA Version

pressed at QRP!
Impulse! 60th Anniversary
Numbered Limited Edition
Deluxe 4LP Box Set
Mastered at Sterling Sound
Cut by Ryan K. Smith
Pressed at Quality Record Pressings
Includes Impulse! Slip Mat
Celebrating Impulse! Records' first decade!
Liner Notes by Greg Tate & A.B. Spellman, LP Box Housed in a High-Quality Archival Portfolio Cast With Museum Drop Front.
Magazine-Style Booklet - Original Impulse! Ads & Artist Photos.
2021 marks the 60th anniversary of the legendary jazz label, Impulse Records – home to such pioneering jazz artists as John Coltrane, Charles Mingus, Pharoah Sanders, Quincy Jones, and more. As a centerpiece to its year-long celebrations, the imprint takes a look back at its first decade with the release of Impulse Records: Music, Message & The Moment – a deluxe vinyl 4LP box set. Housed in a museum drop-front box set, Impulse Records: Music, Message & The Moment speaks to the political, social, and spiritual elements that were omnipresent in the 60s – when Impulse! and its artists were at their creative heights. In a decade marked by protests, racial and social unrest, and the dismantling of institutions, jazz was an integral part of exploring Black identity and pushing cultural and political boundaries.

Orange and black. Fire and ebony. Fury and pride. Wearing its signature colors proudly and raising its exclamation point high, Impulse Records was the go-to label for music that harnessed the searching and political stand-taking of the Sixties. Launched in 1961, Impulse grew to become an inherent part of the era's velocity as well as its volume, pulling jazz into the age of Black Power, Afrocentricity, and Spiritual Expansion. In its balance of tradition and transition, it bridged the golden age of jazz, that brief window from the late Fifties to the Seventies when players representing every jazz era were alive and active – from Louis Armstrong to Albert Ayler, from the legends of lore to a new generation of energy players. Impulse treated all its musicians as innovators, revolutionaries even – from swing and bebop, to free and Afrofuturist.

The performances on Impulse Records: Music, Message & the Moment draw their staying power from a wide embrace of styles and sounds, as well as a tight focus on a historic moment when the promise of change was in the air and the message of racial harmony was in the music. Today that music has lost none of its relevance: the promise still deferred, the message still on time. The collection highlights musical conversations about civil rights – echoed in such albums as John Coltrane's Alabama, Archie Shepp's Attica Blues, John and Alice Coltrane's Reverend King, Charlie Haden and the Liberation Orchestra's We Shall Overcome, and Oliver Nelson's The Rights Of All. It also focuses on themes of spirituality, transcendentalism, and Afrofuturism through the music of Albert Ayler, Pharoah Sanders, John Coltrane, and Alice Coltrane. The historical importance of social music, meanwhile, is reflected in works by artists like Quincy Jones and John Handy.

Rounding out the collection are essays by poet and critic A.B. Spellman ("In many ways, this collection is a mural in sound of the activist's stimulation of the Sixties and Seventies...we need this scope of sound again: We need the horns to scream of stout resistance, and we need the bands to sing to us of the righteous beauty of our souls") and critic Greg Tate ("A collection celebrating Impulse's deep-digging support of artists who scored We The People's SingFight-ing for social political and artists' self-determination in a critical time of beatdowns, breakthroughs and cosmically-centered aspirations"), both of whom offer vital perspectives on the importance of Impulse!, its artists, and its music – particularly within the cultural backdrop of the 60s.
Track Listing:
LP1 Side A:
The John Coltrane Quartet - Africa

LP1 Side B:
Max Roach - Garvey's Ghost
Quincy Jones and his Orchestra - Hard Sock Dance
John Coltrane - Up 'Gainst the Wall
Elvin Jones/Jimmy Garrison Sextet - Just Us Blues

LP2 Side A:
John Coltrane - Alabama
Charles Mingus - Better Get Hit in Yo' Soul
Shirley Scott Trio - Freedom Dance
Yusef Lateef - Sister Mamie

LP2 Side B:
Archie Shepp - Malcolm, Malcolm - Semper Malcolm
Stanley Turrentine - Good Lookin' Out
Earl Hines - Black and Tan Fantasy
Oliver Nelson - The Rights of All

LP3 Side A:
Pharoah Sanders - The Creator Has a Master Plan (edit)
John Coltrane & Alice Coltrane - Reverend King

LP3 Side B:
The Ahmad Jamal Trio - The Awakening
Albert Ayler - Music Is the Healing Force of the Universe
Charlie Haden - We Shall Overcome

LP4 Side A:
Alice Coltrane - Blue Nile
Pharoah Sanders - Astral Traveling
Archie Shepp - Blues for Brother George Jackson
Michael White - Lament (Mankind)

LP4 Side B:
Dewey Redman - Imani
Marion Brown - Bismillahi 'Rrahmani 'Rrahim
John Handy - Hard Work
Click here to listen to samples on YouTube.com ♫