The Beach Boys Little Deuce Coupe (Mono) LP 200g Vinyl Kevin Gray Analogue Productions QRP 2014 USA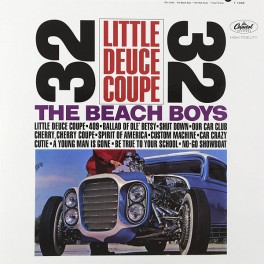 Maximize

Display all pictures
Analogue Productions set out to produce the best The Beach Boys editions ever made, with impeccable remastering and cuts by Kevin Gray on 200 Gram Audiophile Vinyl pressed at Quality Record Pressings, QRP in the USA. These are the most influential The Beach Boys albums, presented in deluxe 'old school' Stoughton tip-on covers, this series was conceived to better the original releases in every way.
Limited Edition
Mono Version
LP 200 Gram Audiophile Vinyl
Mastered by Kevin Gray at Cohearent Audio
Cut from the Original Master Tapes (or best sources available)
Lacquer plating by Gary Salstrom
Pressed at Quality Record Pressings USA
Cover by Stoughton Printing
The ultimate pressings of the Beach Boys discography from Analogue Productions! 33 1/3 RPM Stereo only, Produced by the Beach Boys. Audio production — Mark Linett / For Brother Records — Elliott Lott.

Mastered by Kevin Gray at Cohearent Audio, most from the original master tapes or best sources available, Lacquer plating by Gary Salstrom and 200-gram vinyl pressing by Quality Record Pressings!

"These are the best sounding and best-looking versions of the Beach Boys records that have ever been produced. We want everything about these to be better than the original." — Chad Kassem, owner and CEO, Acoustic Sounds
Released just one month after the Surfer Girl album, Little Deuce Coupe was, incredibly, the Beach Boys' fourth album in less than a year. Brian Wilson and the band responded by turning in arguably their most consistent effort to date — and a concept album, to boot. Deuce Coupe expanded the band's subject matter to encompass 1963 America's burgeoning love affair with hot rods, surrounding previously released cuts such as the title track, "409," and others with strong new material (much of it cowritten by Wilson and a DJ, Roger Christian). A highpoint: the a cappella James Dean tribute "A Young Man Is Gone" (a reworking of Bobby Troup's beautiful "Their Hearts Were Full of Spring"), a prime example of Wilson's arranging genius and the band's vocal prowess. "Their Hearts Were Full Of Spring" had been a standard for the vocal group The Four Freshmen, whose lush and distinctive jazz-based vocal arrangements had a huge influence on Brian's musical development.
Track Listing:
Side A
01. Little Deuce Coupe
02. Ballad Of Ole' Betsy
03. Be True To Your School
04. Car Crazy Cutie
05. Cherry, Cherry Coupe
06. 409

Side B
07. Shut Down
08. Spirit Of America
09. Our Car Club
10. No-Go Showboat
11. A Young Man Is Gone
12. Custom Machine
Click here to listen to samples on YouTube.com ♫