The Beach Boys Smiley Smile (Mono) LP 200g Vinyl Kevin Gray Analogue Productions QRP 2016 USA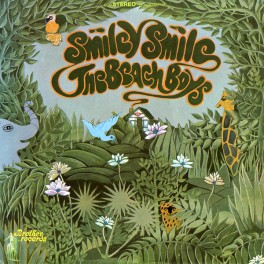 Maximize
Analogue Productions set out to produce the best The Beach Boys editions ever made, with impeccable remastering and cuts by Kevin Gray on 200 Gram Audiophile Vinyl pressed at Quality Record Pressings, QRP in the USA. These are the most influential The Beach Boys albums, presented in deluxe 'old school' Stoughton tip-on covers, this series was conceived to better the original releases in every way.
Limited Edition
Mono Version
LP 200 Gram Audiophile Vinyl
Mastered by Kevin Gray at Cohearent Audio
Cut from the Original Master Tapes (or best sources available)
Lacquer plating by Gary Salstrom
Pressed at Quality Record Pressings USA
Cover by Stoughton Printing
The ultimate pressings of the Beach Boys discography from Analogue Productions! 33 1/3 RPM Stereo only, Produced by the Beach Boys. Audio production — Mark Linett / For Brother Records — Elliott Lott.

Mastered by Kevin Gray at Cohearent Audio, most from the original master tapes or best sources available, Lacquer plating by Gary Salstrom and 200-gram vinyl pressing by Quality Record Pressings!

"These are the best sounding and best-looking versions of the Beach Boys records that have ever been produced. We want everything about these to be better than the original." — Chad Kassem, owner and CEO, Acoustic Sounds
"After the much-discussed, uncompleted Smile project — which was supposed to take the innovations of Pet Sounds to even grander heights — collapsed, the Beach Boys released Smiley Smile in its place. (To clarify much confusion: Smiley Smile is an entirely different piece of work than Smile would have been, although some material that ended up on Smiley Smile would have most likely been used on Smile. Also, much of Smiley Smile was in fact recorded after the Smile sessions had ceased.),"

For fans expecting something along the lines of Sgt. Pepper (and there were many of them), Smiley Smile was a major disappointment, replacing psychedelic experimentation with spare, eccentric miniatures. Heard now, outside of such unrealistic expectations, it's a rather nifty, if rather slight, effort that's avant garde in the extreme. "'Wind Chimes,' 'Wonderful,' 'Vegetables,' and much of the rest is low-key psychedelic quirkiness, with abundant fine harmonies and unusual arrangements. The standouts, nonetheless, were two recent hit singles in which Brian Wilson's ambitions were still intact: The inscrutable mini-opera 'Heroes and Villains,' and the number one hit 'Good Vibrations,' one of the few occasions where the group managed to be recklessly experimental and massively commercial at the same time." — AllMusic
Track Listing:
Side A
1. Heroes And Villains
2. Vegetables
3. Fall Breaks Back To Winter (W. Woodpecker Symphony)
4. She's Goin' Bald
5. Little Pad

Side B
6. Good Vibrations
7. With Me Tonight
8. Wind Chimes
9. Getting Hungry
10. Wonderful
11. Whistle In
Click here to listen to samples on YouTube.com ♫