The Beach Boys Surfin' U.S.A. (Mono) LP 200g Vinyl Kevin Gray Analogue Productions QRP 2014 USA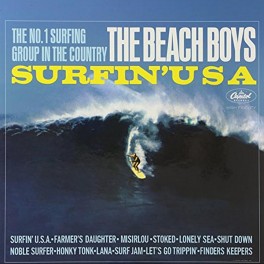 Maximize
Analogue Productions set out to produce the best The Beach Boys editions ever made, with impeccable remastering and cuts by Kevin Gray on 200 Gram Audiophile Vinyl pressed at Quality Record Pressings, QRP in the USA. These are the most influential The Beach Boys albums, presented in deluxe 'old school' Stoughton tip-on covers, this series was conceived to better the original releases in every way.
Limited Edition
Mono Version
LP 200 Gram Audiophile Vinyl
Mastered by Kevin Gray at Cohearent Audio
Cut from the Original Master Tapes (or best sources available)
Lacquer plating by Gary Salstrom
Pressed at Quality Record Pressings USA
Cover by Stoughton Printing
The ultimate pressings of the Beach Boys discography from Analogue Productions! 33 1/3 RPM Stereo only, Produced by the Beach Boys. Audio production — Mark Linett / For Brother Records — Elliott Lott.

Mastered by Kevin Gray at Cohearent Audio, most from the original master tapes or best sources available, Lacquer plating by Gary Salstrom and 200-gram vinyl pressing by Quality Record Pressings!

"These are the best sounding and best-looking versions of the Beach Boys records that have ever been produced. We want everything about these to be better than the original." — Chad Kassem, owner and CEO, Acoustic Sounds
Surfin' USA was the Beach Boys' real breakthough album, showing Brian Wilson asserting himself in the studio as both a premier songwriter and arranger.

Besides the hit title track and its popular drag-racing flip side ("Shut Down"), AllMusic.com notes that Surfin' USA has a lovely, heartbreaking ballad ("Lonely Sea") and a couple of strong Brian Wilson originals ("The Noble Surfer" and "Farmer's Daughter").

"There are also a surprisingly high quotient of instrumentals (five) that demonstrate that ... the Beach Boys could play respectably gutsy surf rock as a self-contained unit. Indeed, the album as a whole is the best they would make, prior to the late '60s, as a band that played most of their instruments, rather than as a vehicle for Brian Wilson's ideas. The LP was a huge hit, vital to launching surf music as a national craze, and one of the few truly strong records to be recorded by a self-contained American rock band prior to the British Invasion." — AllMusic
Track Listing:
Side A
1. Surfin' U.S.A.
2. Farmer's Daughter
3. Misirlou
4. Stoked
5. Lonely Sea
6. Shut Down

Side B
1. Noble Surfer
2. Honky Tonk
3. Lana
4. Surf Jam
5. Let's Go Trippin'
6. Finders Keepers
Click here to listen to samples on YouTube.com ♫