Ryo Fukui A Letter From Slowboat LP 180g Vinyl Half Speed Mastering We Release Jazz Optimal 2020 EU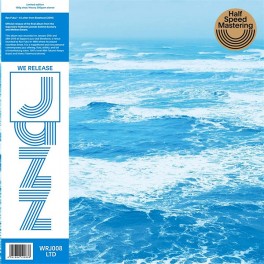 Maximize
Artist:
Ryo Fukui
Title:
A Letter From Slowboat
Catalog Number:
WRJ008LTD
Label:
Sapporo City Jazz
Reissued by:
We Release Jazz
Barcode:
4251804120838
Original release year:
2016
Reissue year:
2020
Number of discs:
1
Revolutions per minute:
33⅓ rpm
Disc size:
12"
Vinyl Weight Grade:
180gr
Limited Edition:
Yes
Total Item Weight:
307gr
Pressing country:
Germany
For Market Release in:
EU
Added to catalog on:
August 14, 2021
Note:
Never eligible for any further discounts
Vinyl Gourmet Club:
No
This album was recorded on January 25th and 26th 2015 at Sapporo jazz club Slowboat, a venue founded by Ryo Fukui in 1995 where he played countless times. It is a magnificent and very personal contemporary jazz offering, fluid, skillful, and full of breathtaking solos. Ryo Fukui plays in trio with Takumi Awaya (bass) and Ittetsu Takemura (drums).
Limited Edition
Official Reissue
Cut by Sidney Claire Meyer at Emil Berliner Studios
Half Speed Mastered
Audiophile 180 Gram Vinyl
Presssed at Optimal Media, Germany
Deluxe cover + OBI Strip
Limited edition / Half speed mastered 180g vinyl in heavy 350gsm sleeve with OBI + liner notes.
We Release Jazz is delighted to announce the official reissue of Ryo Fukui's final album, the very personal contemporary jazz offering, A Letter from Slowboat, sourced from the original masters and available on limited edition 180 gram vinyl mastered at half speed for full audiophile sound.

Known for his miraculous albums Scenery (1976) and Mellow Dream (1977), legendary Hokkaido pianist Ryo Fukui, with the help of his wife Yasuko, opened his very own jazz club in Sapporo in 1995, Slowboat. This is where Ryo Fukui spent the latter half of his career, playing again and again, welcoming peers for unforgettable sessions, and perfecting the craft he lived for: jazz.

A Letter from Slowboat is a poetic, soulful, and honest love letter to Hokkaido, to Fukui's jazz club, and to endless hours of practicing artistry in a place called home. Backed by longtime collaborators Takumi Awaya on bass, and Ittetsu Takemura on drums, Ryo Fukui flows through classics and originals with natural class, fluidity and absolute precision, expressing a smooth balance between skills and heart.

Slowboat, full of breathtaking solos and exquisite moments of clarity, is another crucial piece in the career of one of the most fascinating jazzmen to ever grace the piano. It was released in 2016, sadly the year Ryo Fukui passed away, leaving behind a legacy of works that is sure to captivate jazz lovers for generations to come, and Slowboat, where the magic still happens to this day.
Musicians:
Ryo Fukui - piano
Takumi Awaya - bass
Ittetsu Takemura - drums

Track Listing:
Side A
01. Sonora
02. Stella By Starlight
03. Speak Low
04. Nobody Knows The Trouble I've Seen
Side B
05. Old Country
06. Soultrane
07. Chasin' The Bird
08. Be My Love
Click here to listen to samples on YouTube.com ♫