Tom Petty Wildflowers and All the Rest 3LP Vinyl Bernie Grundman Mastering Warner 2020 USA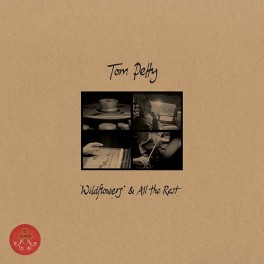 Maximize

Display all pictures
Artist:
Tom Petty
Title:
Wildflowers and All the Rest
Catalog Number:
093624929291
Label:
Warner
Reissued by:
Warner
Barcode:
093624929291
Edition:
Extended Edition
Original release year:
1994
Reissue year:
2020
Number of discs:
3
Revolutions per minute:
33⅓ rpm
Disc size:
12"
Vinyl Weight Grade:
140gr
Total Item Weight:
774gr
Pressing country:
Holland
For Market Release in:
USA & Europe
Added to catalog on:
July 12, 2021
Note:
Never eligible for any further discounts
Vinyl Gourmet Club:
No
Wildflowers And All The Rest, the long-awaited Wildflowers reissue, was relased in 2020 by Warner Records. Tom's vision of the project has become a reality due to the commitment of his loving family, bandmates and collaborators who helped unearth many previously unheard gems. Original album tracks cut all analog from the Master Tapes by Chris Bellman at Bernie Grundman Mastering.
Rolling Stone 500 Greatest Albums of All Time Rated 214/500
25 tracks including 5 unreleased songs
Original album cut all analog
Cut by Chris Bellman at Bernie Grundman Mastering
3LP 140g Vinyl
Triple Gatefold Cover
Long-awaited reissue for Tom Petty's beloved 1994 solo work Wildflowers! 3LP edition contains the original 15-track Wildflowers album remastered. Third disc contains the 10 songs from Wildflowers sessions that were left off the album!

"The sound is uniformly 10-11 on the AnalogPlanet sonic scale. In case you are wondering, the original album here is not sourced from the 2015 all-analog reissue. They went back and re-mastered it from the original tape for this box." — Michael Fremer, AnalogPlanet

The Petty, Rick Rubin and Mike Campbell-produced sessions for Wildflowers yielded enough material for a double-album filled with 25 songs. However, the label advised that Petty pare it down as a single disc, with unused tracks either winding up on Petty's She's the One soundtrack or in the archives, like "Somewhere Under Heaven," which appears in the box set. "I did not remember writing it, recording it, anything," Petty told Rolling Stone in 2014. "And it was really good — uptempo but very unusual, in some strange time signature."

During Tom Petty's final interview with the Los Angeles Times, as the triumphant 40th anniversary tour with the Heartbreakers was coming to an end, he announced that his next big focus would be to finally revisit his 1994 masterpiece, Wildflowers, co-produced with Rick Rubin and Mike Campbell. Wildflowers in many ways changed Tom's creative life – as a recording artist, collaborator and band leader – while a profound, personal crisis transformed the stories and emotional thrust in his songs. Tom ultimately wrote more songs than he could release at the time. In fact, Tom, Rubin and Campbell completed the album as a double CD with 25 songs, nearly two hours of music, but his label advised restraint. Released on November 1, 1994, Wildflowers – a single CD with 15 songs, still more than an hour in length – was Tom's most acutely confessional album to date.

The resurrection of Wildflowers has been a long time coming. In a 2014 interview with Rolling Stone Tom detailed his plans for the reissue, telling the magazine, "I broke through to something else. My personal life came crashing down, and it derailed me for a while. But I was at the top of my game during that record." Then again in 2016 on SiriusXM's Tom Petty Radio, he discussed his desire for a Wildflowers tour to coincide with a reissue. Tom had always intended to release the second half of the album – a collection he named All The Rest, featuring ten songs from the Wildflowers recording sessions that were left off the original version and five unreleased tracks (different versions of four other songs would appear on the soundtrack to the 1996 film, She's The One).

Wildflowers & All The Rest, the long-awaited Wildflowers reissue and comprehensive collection, is curated by Tom's daughters, Adria and Annakim Petty, and his wife Dana Petty, who call it, "Many, many hours of pure sonic joy." It also involves Heartbreakers Mike Campbell and Benmont Tench, and was produced by Tom's longtime engineer and co-producer Ryan Ulyate. Together they stewarded the warmth Tom created through his music and relationship to his fans.

Tom Petty released 16 studio albums and over 180 songs over the course of his 40-year career. Wildflowers was the first album of a long-term renaissance. It was Petty's fastest selling album and was certified Triple Platinum only nine months after its release. The album was always deeply significant to him. As proof, five of the 18 songs performed at his final live concert at the Hollywood Bowl in Los Angeles came from the album. Wildflowers – his solo masterpiece, a personal triumph and the album Petty needed to make at that moment, at any cost – is finally here as he intended it and beyond.

This triple vinyl edition contains the original 1994 Wildflowers album (remastered in 2020) with 15 tracks across two LPs while a third disc features All The Rest, the 10 songs from the Wildflowers sessions that were left off the album, five of which are previously unreleased. It also includes lyrics to all the songs on Wildflowers & All The Rest.
Track Listing:
Wildflowers

LP 1 Side A
1. Wildflowers
2. You Don't Know How It Feels
3. Time To Move On
4. You Wreck Me
LP 1 Side B
1. It's Good To Be King
2. Only A Broken Heart
3. Honey Bee
4. Don't Fade On Me

LP 2 Side C
1. Hard On Me
2. Cabin Down Below
3. To Find A Friend
4. A Higher Place

LP 2 Side D
1. House In The Woods
2. Crawling Back To You
3. Wake Up Time

All The Rest

LP 3 Side E
1. Something Could Happen
2. Leave Virginia Alone
3. Climb That Hill Blues
4. Confusion Wheel
5. California

LP 3 Side F
1. Harry Green
2. Hope You Never
3. Somewhere Under Heaven
4. Climb That Hill
5. Hung Up And Overdue
Click here to listen to samples on YouTube.com ♫