Patricia Barber Café Blue 2LP 45rpm 180g VR900-Supreme Vinyl 1STEP Box Set Impex Records RTI USA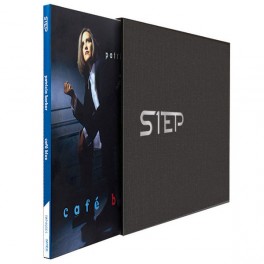 Maximize

Display all pictures
Patricia Barber's outstanding 1994 release Café Blue has won more than 15 awards from major international music institutions. Deemed an 'underground classic' by jazz Bible Downbeat magazine, the album contains sparkling, indelible improvisations derived as much from Barber's interest in classical music as from jazz, revealing her innovative, thoroughly distinctive style.
Strictly Limited Edition

5000 Numbered Pressings

1STEP Process 180 Gram Vinyl
45rpm Double LP
Pressed on VR900-Supreme Vinyl
Cut from the original analog work masters
Cut by Kevin Gray at CoHearent Audio
Deluxe Tri-Fold Cover
Linen-wrapped slip case Box Set
Booklet featuring new notes by Patricia Barber
*Limited to Two Units Per Customer/Address
TAS Super LP List - The Absolut Sound
TONE's 2020 Product Of The Year - Recording!
Michael Fremer Rated 10/11 Music, 10/11 Sonics!
Patricia Barber has always been an artist's artist, harnessing a restless imagination and an intellectualized curiosity to create visionary jazz that breaks boundaries and reorders perceptions. She serves the chase: the unexpected musical note. The irreplaceable word. The irregular beating heart of jazz.

And Café Blue is the album that best personifies her genius. Spare, turbulent, quirky, and slyly humorous, there is no other jazz masterwork quite like it.

For the first collaboration with this musical vanguard, Impex's 1STEP is exclusively cut from original analog work masters and cut by Kevin Gray at CoHearent Audio. The stunning fidelity, breathtaking dynamics and startling spacial realism surpass every other edition of this breakthrough album.

The 1STEP Process:
The Impex 1STEP process relies on short, tightly-controlled runs that require a new lacquer after each 500 pressings. This unforgiving format has the lacquer skipping the regular father-mother process, going right to a single convert and then pressing. Though this dramatically increases mastering and production costs, it also assures each run is more consistent from disc to disc, with less noise, clearer details and deeper bass.

Reducing production complexity to just a single "convert" disc between the lacquer and the press greatly improves groove integrity, diminishes non-fill anomalies and increases signal integrity from the master tape to your system.

Two 180-gram 45-rpm LPs, pressed on VR900-SUPREME VINYL, and a deluxe booklet are packaged in a heavy-duty 3-sleeve jacket. The jacket is then placed in a linen-wrapped slip case that protects your investment and brings a cool retro-modern look to your shelves. Strictly limited to 5,000 numbered pressings!

"A long serious asthma attack had sidelined me for an entire year before and during the time I wrote the music for Café Blue. In a repeat of so many childhood episodes of being sick, exiled, looking out the window at other kids playing, coughing up mucus at my mother's insistence, crying myself to sleep, doing breathing exercises into an inhalation meter given to me by the hospital to increase my lung capacity, there I was again at 37 years old, very sick. My existence centered around the inhalation meter which showed a dangerously low number. Over the course of that year, I was able to increase my lung capacity, day by day, incrementally, from a reading of 'almost dead' to a normal, even robust lung capacity. But it took a full year, all my savings, and extreme patience to bring myself back to the world of the living.

Toward the end of that year, feeling better, I started working again with music, my great love. At the Gold Star Sardine Bar, Bill Allen, the owner, had insisted that I sing songs exclusively from the classic American Songbook. My mother had taught me all of these songs, but I really learned them well during the 9 years of 6 nights a week at the Gold Star. (The smoke from the club also made me sick, as they had cigarettes on the tables.) Intimate knowledge of this song library gave me access to harmony, lyrics, secrets to what can make a song work. And like many other singers of the era, I was frustrated that there was no quality contemporary song repertoire. Having time on my hands, I decided to give songwriting a try. Pretty quickly I realized I had a talent for it. The emotion you hear in the songs on Café Blue is some combination of my sadness at being imprisoned, my love for music and life, and my joy in seeing light at the end of the tunnel." - P.B., December 2019

The only way to get closer to Ms. Barber is to pull up a chair at one of her performances... If you're a mega-fan, you want this one. From a sheer recording standpoint, this is the closest to the sound quality the reel to reel guys are gushing about. And collectors loving the tactile aspect will appreciate a jacket and box done to the same standard. -Jeff Dorgay, TONEAudio, 2020 Product of the Year Award Winnner - Recording

Songs of sickness, loss, death-acceptance, being overwhelmed and suicide have never sounded so good or been so well packaged. So, yes, we do need yet another café blue and honestly, even if you already have a copy (especially the original pressing, or the Mo-Fi, which on some songs like 'Ode to Billy Joe' sound as if Barber's voice was out of phase and almost 'canceled out' - never mind it was sourced from the original inferior mix) and love the music and the sound, you too need another copy. This one. -Michael Fremer, Analog Planet, Music 10/11, Sound 10/11

Bottom line, I was absolutely floored by the sound quality... this is the real deal. For audiophiles seeking out the very best when it comes to visceral involvement and musical satisfaction, the IMPEX 1-Step Café Blue is a true delight. For those adding to their One Step collection or for others looking for an opportunity to experience this pressing technology for the first time, I strongly recommend that you check this one out. -Robert S. Youman, Positive Feedback

As good as the original and the 2011 remix sounded, this knocks it out of the park with better dynamics, not to mention more detailed texture and stunning tonal quality. Add to that the deluxe tri-fold cover, beautifully crafted liner notes and cloth bound slip case, and 5,000 owners will own an audiophile and music lover's treasure. -Hi-Fi+, Recording 10/10, Music 9/10
Musicians:
Patricia Barber, piano, vocals
John McLean, guitars
Michael Arnopol, bass
Mark Walker, drums, percussion, body parts
Track Listing:
01. What A Shame
02. Mourning Grace
03. A Taste Of Honey
04. Ode To Billie Joe
05. Too Rich For My Blood
06. Manha De Carnaval
07. Inch Worm
08. Wood Is A Pleasant Thing To Think About
09. Nardis
10. The Thrill Is Gone
11. Romanesque
12. Yellow Car III
Click here to listen to samples on YouTube.com ♫