Gary Karr Adagio d'Albinoni Harmon Lewis LP 180 Gram Vinyl Kevin Gray King Record Analogphonic Pallas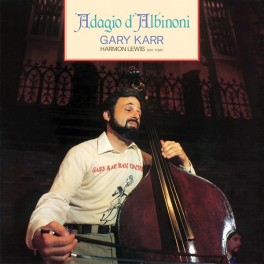 Maximize

Display all pictures
Artist:
Gary Karr
Title:
Adagio d'Albinoni
Catalog Number:
CNLR 1336
Label:
King Record Co. Ltd. Japan
Reissued by:
Analogphonic
Barcode:
8809300903279
Edition:
Analogphonic Pure Analog
Original release year:
1981
Reissue year:
2014
Number of discs:
1
Revolutions per minute:
33⅓ rpm
Disc size:
12"
Vinyl Weight Grade:
180gr
Limited Edition:
Yes
Total Item Weight:
389gr
Pressing country:
Germany
For Market Release in:
KR
Added to catalog on:
September 25, 2014
Vinyl Gourmet Audiophile TOP 100:
Yes
Note:
Never eligible for any further discounts
Vinyl Gourmet Club:
No
Gary Karr was acclaimed as the world's leading solo bassist by Time Magazine, and was in fact the first solo double bassist in history to make that pursuit a full-time career. Adagio d'Albinoni where he plays with Harmon Lewis on pipe-organ is one of the most famous audiophile records ever made, with impressive sound and deeply moving musical performance on this analog super disc.
Featured in Vinyl Gourmet Audiophile TOP 100
All Analog AAA Recording and Mastering
Audiophile mastering by Kevin Gray at Cohearent Audio
Pressed at Pallas GmbH Germany on 180 Gram Vinyl
Full Analog chain used during entire mastering process
Cut from the Original Analog Master Tapes of King Record Co. Ltd


Gary Karr, acclaimed as "the world's leading solo bassist" (Time Magazine), is, in fact, the first solo double bassist in history to make that pursuit a full-time career. It is a career that adds new lustre to his already lustrous 1611 Amati double bass which was given to him by the widow of Serge Koussevitzky.

Since his debut with Leonard Bernstein and the New York Philharmonic in 1962, Karr has performed as soloist on six continents with orchestras, including the Chicago Symphony, London Philharmonic Orchestra, Hong Kong Philharmonic, Montreal Symphony, Simon Bolivar Orchestra (Caracas, Venezuela), Jerusalem Symphony, Oslo Philharmonic, Zurich Chamber Orchestra, and with all the major orchestras of Australia.

The record that set the standard for fidelity. Often imitated, never surpassed. Karr's beloved Adagio d'Albinoni - recorded September 22, 1981, at Vega Hall in Takarazuka, Japan and originally issued in 1982 - has been a perennial favorite of audiophiles the world over. Rarely, if ever, has the deep, sonorous tone of the legendary Amati double bass been captured with such precision and verisimilitude. Stately and soulful, Gary Karr was a player of uncommon grace and this was the recording that set him in the pantheon of the greatest double bass artist!

Musicians:

Music composed by Albinoni / Beethoven / Handel / Bach
Gary Karr (contrabass)
Harmon Lewis (pipe organ)

Track Listing:

1. Adagio in G minor (Albinoni)
2. Sonatina (Beethoven)
3. Piece No. 5 (Franck)
4. Sonate No.9 In B Minor (Handel)
5. Ave Maria (Bach)
Click here to listen to samples on AllMusic.com ♫
(just the last track on the samples list)