Thelonious Monk Palo Alto High School Concert 1968 LP Vinyl Sterling Sound Impulse 2020 USA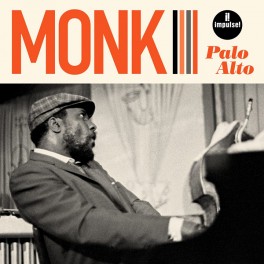 Maximize

Display all pictures
Artist:
Thelonious Monk
Title:
Palo Alto
Catalog Number:
B0032181-01
Label:
Impulse!
Reissued by:
Impulse!
Barcode:
602507112844
Original release year:
1968
Reissue year:
2020
Number of discs:
1
Revolutions per minute:
33⅓ rpm
Disc size:
12"
Total Item Weight:
444gr
Pressing country:
EU
For Market Release in:
USA
Added to catalog on:
December 22, 2020
Note:
Never eligible for any further discounts
Vinyl Gourmet Club:
No
Palo Alto, a previously unheard recording of a 1968 high school performance by jazz great Thelonius Monk, also marks his posthumous debut on the revered Impulse! label. Against a backdrop of racial tension and political volatility, the concert was recorded by the school's janitor and now mastered by Ryan K. Smith at Sterling Sound for this special release.
Vinyl LP
Cut by Ryan K. Smith
Mastered at Sterling Sound
Gatefold Cover
Booklets with original concert program and poster
Hi-res rare images of Monk and band
"The summer of 1968 looked like the summer of 2020. Americans were in the streets protesting racism, among other things. And a high school student in Palo Alto, Calif., got in on the action by enlisting the help of a jazz legend. Danny Scher came up with the idea to book Thelonious Monk to play his school's auditorium and now, a professional recording of this concert is released publicly for the first time.
The fact that the concert was recorded at all is almost "by happenstance," says WBGO and Jazz Night in America's Nate Chinen. "The day before the event, Danny was approached by a school janitor, who said: 'If you let me record the concert, I'll get the piano tuned.' So Danny (who, remember, is a teenager), was like: 'Uh, sure!' "
The identity of the janitor remains unknown, but after the show, he handed the tape over to Scher, who has held onto it for over 50 years." ~NPR.org
Previously Unheard 1968 High School Concert by Thelonious Monk on Impulse! Vinyl LP with Two Booklets and Poster: Well-Recorded Palo Alto Performed Amidst Racial Tension

Palo Alto, a previously unheard recording of a 1968 high school performance by jazz great Thelonius Monk, also marks his posthumous debut on the revered Impulse! label. The surprise set came about after 16-year-old high school student Danny Scher had a dream to invite the storied pianist and composer and his all-star quartet to perform a concert at his local high school in Palo Alto, California. Against a backdrop of racial tension and political volatility, the concert took place on October 27, 1968, and was recorded by the school's janitor. The 47-minute album features Monk's regular touring band of tenor saxophonist Charlie Rouse, bassist Larry Gales and drummer Ben Riley. It also highlights his touring repertoire, which constituted his finest compositions. The vinyl LP also comes with two booklets and a poster.

The teenage Scher was a "jazzhead" with a sense of idealism that was set against the political and social turmoil of the day. That was framed by the assassinations of Martin Luther King, Jr. and Robert F. Kennedy, unsettling revelations about the Vietnam War and violent uprisings across the country. The mood was mirrored in Palo Alto and its neighboring, primarily African-American town of East Palo Alto. "I always looked at music as a way to put issues on hold or up to a mirror, whether they be political or social," says Scher. His flair for concert promotion later led him to work with one of the profession's most famous exponents, Bill Graham, and to become a well-known promoter in his own right. He continues: "On 27 October 1968, there was a truce between Palo Alto and East Palo Alto. And that is what music does."

Monk, who had appeared on the cover of Time magazine two years earlier, was still prominent in the public eye at the time of the concert. Even though he was in poor physical and financial health, he was taken by the telephone call he received from Scher in the middle of his three-week run at the Jazz Workshop in San Francisco. So it was, that night, that Monk and his band climbed out of the Scher family van, across the rainy parking lot and into the Palo Alto High School auditorium. Their set included Monk's lyrical love song "Ruby, My Dear," on which Rouse took the melodic lead on tenor sax before Monk's dazzling solo. "Well, You Needn't" was given a 13-minute workout with solos by the whole band. Also included was Monk's captivating solo reading of Jimmy McHugh's "Don't Blame Me"; the signature "Blue Monk" and a playful run through the aforementioned "Epistrophy." Then came a truncated encore of Monk's slow stride through Rudy Vallee's 1925 Tin Pan Alley hit "I Love You Sweetheart of All My Dreams." After a standing ovation, Monk made their goodbyes by explaining that they had to make their date in San Francisco that evening.

The recording remained in the attic of Scher's family home for many years, and after he contacted T.S. Monk with a view to its release, they chose Impulse! Records, label home of Thelonius' longtime collaborator and fellow jazz staple John Coltrane. "The house that Trane built" was the perfect home for the new release, almost forty years after Monk's death. Palo Alto is the first of a series of joint releases to come over the next five years from Impulse! Records in conjunction with the Monk estate's Rhythm-A-Ning Entertainment, which is led by T.S. Monk who says: "That performance is the one of the best live recordings I've ever heard by Thelonious. I wasn't even aware of my dad playing a high school gig, but he and the band were on it. When I first heard the tape, from the first measure, I knew my father was feeling really good."
Musicians:

Thelonious Monk, piano
Charlie Rouse, tenor saxophone
Larry Gales, bass
Ben Riley, drums
Track Listing:
01. Ruby, My Dear [Live]
02. Well, You Needn't [Live]
03. Don't Blame Me [Live]
04. Blue Monk [Live]
05. Epistrophy [Live]
06. I Love You Sweetheart Of All My Dreams [Live]
Click here to listen to samples on YouTube.com ♫