Rebecca Pidgeon The Raven 2LP 45rpm 180 Gram Vinyl Sterling Sound Analogue Productions QRP 2020 USA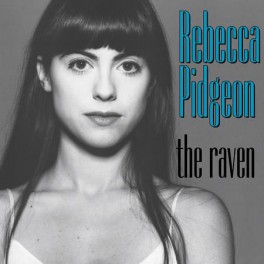 Maximize
Artist:
Rebecca Pidgeon
Title:
The Raven
Catalog Number:
AAPP 130-45
Label:
Chesky Records
Reissued by:
Analogue Productions
Barcode:
753088130472
Original release year:
1994
Reissue year:
2020
Number of discs:
2
Revolutions per minute:
45 rpm
Disc size:
12"
Vinyl Weight Grade:
180gr
Limited Edition:
Yes
Total Item Weight:
709gr
Pressing country:
USA
For Market Release in:
USA
Added to catalog on:
August 16, 2020
Note:
Never eligible for any further discounts
Vinyl Gourmet Club:
No
Refined and contemporary, Rebecca's voice rings with honest, unpretentious confidence and vivid tenderness. While her Celtic melodies set the mood, her lyrics tell stories, full, rich, textured, and open hearted. This amazing talent made her U.S. debut with The Raven, a striking, powerful and fully realized vocal record for Chesky Records, featuring her stunning version of 'Spanish Harlem'.
Limited Edition
2LP 45rpm 180 Gram Vinyl
Cut by Ryan K. Smith at Sterling Sound
Cut from the Original Analog Master Tape
Pressed at Quality Record Pressings, QRP
Deluxe gatefold cover by Stoughton Printing
Double LP 45 RPM reissue. Stoughton Printing tip-on gatefold jacket! Mastered by Ryan K. Smith at Sterling Sound from the analog master tape. 180-gram vinyl pressed at Quality Record Pressings!

Analogue Productions returns The Raven in a lavish 180-gram 2LP 45 RPM vinyl reissue, plated and pressed at Quality Record Pressings. Rebecca Pidgeon's timeless classics are spread across four sides. The dead-quiet double-LP, with the music spread over four sides of vinyl, reduces distortion and high frequency loss as the wider-spaced grooves let your stereo cartridge track more accurately.

Rebecca Pidgeon, the acclaimed Scottish actress, has also displayed her gift as a singer/songwriter on her several well-received albums. Taking elements from folk, pop, jazz, and Celtic traditions, Pidgeon crafts lilting, intimate poetry. Born in Cambridge, Massachusetts, she later moved to Edinburgh, Scotland with her family at the age of 5.

As a teenager in Scotland, she sang along with the radio and her parents' Beatles and Joni Mitchell records as a light escape from her demanding acting studies. Eventually, she enrolled in London's Royal Academy of Dramatic Art at 18 where she studied drama, music, and voice.

Pidgeon's first Chesky release, The Raven, featured Pidgeon's stunning version of "Spanish Harlem." The Raven went on to become an audiophile classic, thanks to Pidgeon's crystalline voice and Chesky's high-fidelity recording techniques. Her second album, The New York Girls' Club, brought her unique singing and songwriting to more music lovers.

Intimately performed and recorded, Four Marys, released in 1998 showcases Rebecca's unique interpretations of timeless Celtic folk songs. As much a testament to her musical roots as it is to her tremendous vocal presence, this recording leads both music lovers and audiophiles down an engaging new path.

She now resides in Boston and Vermont with her husband and their daughter. Between album projects, Pidgeon has starred in the Mamet plays "Oleanna," "Speed the Plow," "The Old Neighborhood," and the motion pictures "The Spanish Prisoner" and "The Winslow Boy."

"Originally released in 1994, The Raven was the solo recording debut of actress and singer-songwriter Rebecca Pidgeon. ... With a pure, breathy soprano, Pidgeon is reminiscent of both early Joni Mitchell as well as Sandy Denny, and the mostly self-penned tunes on The Raven — some were co-writtten by her husband, David Mamet — encompass a range of pop, folk, and jazz-inflected styles. Yet for many listeners, the standout tune here is Pidgeon's excellent cover of Phil Spector's "Spanish Harlem." Newly mastered by Ryan Smith at Sterling Sound and plated and pressed at QRP, The Raven holds up very well musically, and the minimally-miked recording, using a custom 128x oversampling DAC and tube gear designed by George Kaye, is outstanding in a natural as opposed to a spectacular way. Pidgeon's lovely, somewhat delicate voice is very nicely captured and surrounded by cushions of studio air." — Music = 4/5; Sonics = 4.5/5 — Wayne Garcia, The Absolute Sound.
Musicians:

Rebecca Pidgeon, vocals, guitar
Joel Diamond, piano
Anthony Coote, guitar, background vocals
George Naha, guitar
Mitch Margold, synthesizer
David Finck, bass
Gary Burke, percussion
Coco Kallis, back up vocals
Paul Miller, back up vocals
Elise Morris, back up vocals
Juliet Haffner, viola
Erik Friedlander, cello
Laura Seaton, violin
Robert Chausow, violin

Track Listing:
01. Kalerka
02. The Witch
03. The Raven
04. You Need Me There
05. Grandmother
06. You Got Me
07. Heart And Mind
08. Her Man Leaves Town
09. Seven Hours
10. Wendy's Style Shop
11. The Height Of Land
12. Spanish Harlem
13. Remember Me
Click here to listen to samples on YouTube.com ♫