Neil Young ‎Homegrown LP Vinyl Neil Young Archives Special Release Series Reprise Records 2020 EU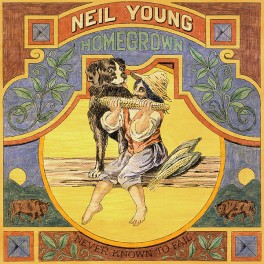 Maximize
Artist:
Neil Young
Title:
Homegrown
Catalog Number:
093624893639
Label:
Reprise Records
Reissued by:
Reprise Records
Barcode:
093624893639
Original release year:
1975
Reissue year:
2020
Number of discs:
1
Revolutions per minute:
33⅓ rpm
Disc size:
12"
Total Item Weight:
270gr
Pressing country:
EU
For Market Release in:
EU
Added to catalog on:
August 11, 2020
Collection:
Neil Young Archives
Note:
Never eligible for any further discounts
Vinyl Gourmet Club:
No
Neil Young has said that this album is the unheard bridge between Harvest and Comes a Time, which perfectly describes the warm, semi-acoustic feel of these twelve songs. Originally intended to be released in 1975, the album has remained unreleased since then, and has a legendary status among Neil's fans.
Original Analog recordings from 1974 and 1975
Original Mixes restored by John Hanlon
All Analog cut by Chris Bellman
Mastered at Bernie Grundman Mastering
Pressed by Record Industry in Holland
Neil Young's 1974/'75 "Lost Album" On Vinyl LP! Recorded In Analog & Mastered From The Original Master Tapes! Includes 7 Previously Unreleased Songs!

Neil Young puts it best: "This album is the unheard bridge between Harvest and Comes a Time".

Recorded between June 1974 and January 1975, Homegrown was intended to come out in 1975 before Neil cancelled the release. The album has remained unreleased until now, achieving a legendary status among Neil Young fans in the process.

In a letter posted on the Neil Young archives, Young writes: "I apologize. This album Homegrown should have been there for you a couple of years after Harvest. It's the sad side of a love affair. The damage done. The heartache. I just couldn't listen to it. I wanted to move on. So I kept it to myself, hidden away in the vault, on the shelf, in the back of my mind….but I should have shared it. It's actually beautiful. That's why I made it in the first place. Sometimes life hurts. You know what I mean. This is the one that got away."

The album is made up of twelve Neil Young songs, of which seven are previously unreleased - "Separate Ways," "Try," "Mexico," "Kansas," We Don't Smoke It No More," "Vacancy" and "Florida" (a spoken word narration). Also included are the first recordings of "Love Is A Rose," "Homegrown," "White Line, "Little Wing," and "Star Of Bethlehem" - different versions of which would all later appear on other Neil Young albums. The versions of "Love Is A Rose" and "Little Wing" have been previously released on the 1977 compilation Decade.

Young plays solo on some tracks (guitar, piano and harmonica), and is joined by a band of friends on other tracks, including Levon Helm, Ben Keith, Karl T Himmel, Tim Drummond, Emmylou Harris and Robbie Robertson.

"Recorded in analog in 1974 and early 1975, Homegrown was mixed at that time to original stereo analog master tapes," explains Young. "These original mixes have been restored with love and care by John Hanlon, and mastered by Chris Bellman at Bernie Grundman Mastering, making Homegrown a completely original album... Homegrown contains a narration, several acoustic solo songs never even published or heard until this release and some great songs played with a band of my friends... Anyway, it's coming your way in 2020, the first release from our archive in this new decade. Come with us into 2020 as we bring you the past."

One of the most influential artists of all time, Neil Young has set a standard of artistic integrity and iconoclastic creativity. Before starting his multi-platinum solo career, he was a founding member of the folk-rock band Buffalo Springfield and worked with the groups Crazy Horse and Crosby, Stills and Nash. The Canadian singer-songwriter was recognized by the Rock and Roll Hall of Fame in 1995 for his work as a solo artist and was inducted into the Canadian Music Hall of Fame in 1982.

Realistically speaking, Homegrown is neither a 'masterpiece', nor a 'cash grab'. Instead, it's a worthwhile addition that fills a small but significant gap in Neil Young's rich, rewarding catalog. Long lost album found. One thing is not in doubt here and that's the absolutely stunning Harvest-quality LP sound... I hate to write this but I will: Homegrown is worth buying (which I did, no promo) if just for the sound, though of course there's more here than just great sound. While I wouldn't say this about some of his more recent new releases, this one is a definite 'must have' for Neil fans. - Michael Fremer, Analog Planet, Music 7/11, Sound 10/11

This is an album that proves something beautiful and enduring can come from even the most dire circumstances. - Rolling Stone, 4.5/5 Stars
Track Listing:
01. Separate Ways
02. Try
03. Mexico
04. Love Is a Rose
05. Homegrown
06. Florida
07. Kansas
08. We Don't Smoke It No More
09. White Line
10. Vacancy
11. Little Wing
12. Star of Bethlehem
Click here to listen to samples on YouTube.com ♫