King Crimson In The Wake Of Poseidon LP 200g Vinyl Steven Wilson 40th Anniversary Mixes DGM 2020 EU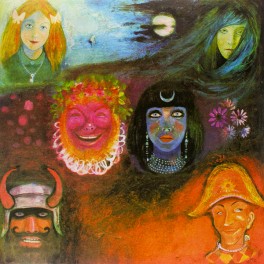 Maximize
In 2009 Steven Wilson and Robert Fripp started working on King Crimson's 40th Anniversary with a series of new remixes that have been released in several digital formats. Consumer demand for the remixes on vinyl led to two boxed sets being issued in late 2018, but they're now available in Limited edition individual albums release with 2,000 units per title, pressed on 200 gram vinyl.
Limited Edition

(2000 units)

200 Gram Super-Heavyweight Vinyl
40th Anniversary Mixes
Remixed by Steven Wilson and Robert Fripp
Track

The Devil's Triangle

is original mix (due to missing master tape)
Cut by Jason Mitchell at Loud Mastering
Reproduction of Original Gatefold Cover Artwork
King Crimson spent 1970 as a studio band recording a single "Catfood" and the two albums In the Wake of Poseidon and Lizard. "Catfood" was released in March, earning the band an appearance on British BBC TV flagship music show Top of the Pops. In The Wake of Poseidon followed in May. While McDonald and Giles had announced their intention to leave in December of 1969 and Greg Lake would depart in April of 1970, Giles and Lake appeared on the single and album with Peter Giles (formerly of Giles, Giles & Fripp) and incoming members Keith Tippett, Mel Collins and Gordon Haskell alongside Fripp and Sinfield. As a result, the album shares some similarities in approach and sound to their debut, In the Court of the Crimson King and has been a firm favorite among fans of the band since its initial release.

Though working with a transitional lineup the album sounds remarkably cohesive. Like the debut album, In The Wake Of Poseidon was self produced and displayed an increased confidence in the use of the recording studio. The breadth of material recorded is even broader than the debut. The short "Peace" appears in 3 different settings bookending the album's longer tracks. One of the band's prettiest ballads "Cadence & Cascade" leads into the powerful title track, while the album version of "Catfood" is followed by "The Devil's Triangle," an ambitious sound collage that seems to owe more to contemporary classical and free jazz roots than any form of rock music. The short burst of "In the Court of the Crimson King" in the final part of the track eerily anticipates modern sampling techniques.

Upon release, In The Wake Of Poseidon reached #4 on the UK album charts, one position higher than their debut and the highest chart placing the band enjoyed in Britain.
Musicians:
Bass – Peter Giles
Drums – Michael Giles
Guitar, Mellotron, Effects [Devices] – Robert Fripp
Piano – Keith Tippet
Saxophone, Flute – Mel Collins
Vocals – Greg Lake
Words By – Peter Sinfield

Track Listing:

1. Peace: A Beginning
2. Pictures of a City
3. Cadence & Cascade
4. In The Wake of Poseidon
5. Peace: A Theme
6. Cat Food
7. The Devil's Triangle Including: Merday Morn, Hand of Sceiron, Garden of Worm
8. Peace: An End
Click here to listen to samples on YouTube.com ♫