King Crimson Starless And Bible Black LP 200g Vinyl Steven Wilson 40th Anniversary Mixes DGM 2020 EU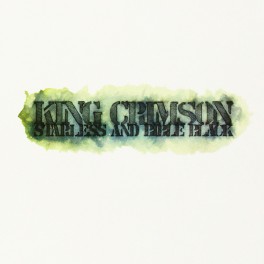 Maximize
In 2009 Steven Wilson and Robert Fripp started working on King Crimson's 40th Anniversary with a series of new remixes that have been released in several digital formats. Consumer demand for the remixes on vinyl led to two boxed sets being issued in late 2018, but they're now available in Limited edition individual albums release with 2,000 units per title, pressed on 200 gram vinyl.
Limited Edition

(2000 units)

200 Gram Super-Heavyweight Vinyl
40th Anniversary Mixes
Remixed by Steven Wilson and Robert Fripp
Tracks Trio & The Mincer are original mix (due to missing master tape)
Cut by Jason Mitchell at Loud Mastering
Reproduction of Original Gatefold Cover Artwork
Much of this 1974 album was recorded live but was edited and blended with studio material. In 1973, percussionist Jamie Muir left the band and the band's drummer, Bill Bruford, took on the duties of percussion.
With the line-up change and touring pressures, King Crimson were short of newly written material to record for this album. Having increased their level of onstage improvisation while touring, they used new compositions performed in concert for this 1974 released album, in some cases blending the live recordings with studio recordings.
Released between the startling re-invention of Larks' Tongues In Aspic and the far-reaching repercussions of Red, when it comes to assessments of the King Crimson canon, Starless And Bible Black has often been overlooked. Yet even a cursory listen reveals this to be a powerful record, brimming with confidence born out of the band's increasing mastery of the concert platform.

Though the public wasn't necessarily aware of it when it was originally released in March 1974, Starless And Bible Black was in essence largely a live album, an experimental hybrid of in-concert material (much of it improvised) and studio recordings. Often the two are so finely dovetailed together it's difficult to tell them apart.

Only two tracks on the record ("The Great Deceiver" and "Lament") were fully recorded in the studio. "The Night Watch" contained a live introduction, while the instrumental backing to "The Mincer" was excised from an in-concert improvisation with vocals overdubbed later. The rest of the tracks were taken from concert recordings from the UK and Europe with the audience carefully edited out.

Starless And Bible Black demanded the attention and concentration of the listener. Crimson's audience responded to the challenge, making it a much loved album by the band. As with the other recordings by the mid 1970s line-up, the intervening years have seen the album's reputation increase among fans and musicians alike, while the then unusual approach to using live performances as core elements of subsequent studio recordings has also become increasingly commonplace.

Robert Fripp once talked about an album being a love-letter and a concert a hot date. Arguably, Starless And Bible Black combined the best of both worlds, making it the most accurate representation of the band's uniquely powerful mid-70s identity.
Musicians:

David Cross (violin, viola, mellotron, electric piano)
Robert Fripp (guitar, mellotron, electric piano)
John Wetton (bass, vocals)
Bill Bruford (percussion)
Track Listing:

Side A
1. The Great Deceiver
2. Lament
3. We'll Let You Know (instrumental)
4. The Night Watch
5. Trio (instrumental) - Original Mix
6. The Mincer - Original Mix

Side B
7. Starless and Bible Black (instrumental)
8. Fracture (instrumental)
Click here to listen to samples on YouTube.com ♫