Lou Donaldson Here 'Tis 2LP 45rpm 180g Audiophile Vinyl Blue Note Records Analogue Productions RTI USA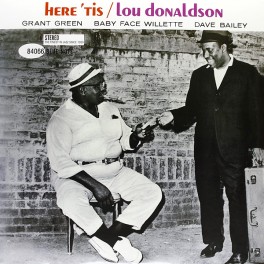 Maximize
The best albums from legendary Blue Note Records jazz catalogue get impeccable audiophile treatment by Analogue Productions, cut at 45rpm for ultimate sound quality by equaly legendary mastering engineers Kevin Gray and Steve Hoffman at AcousTech, preserving all the analog glory of the Original Master Tapes to bring these sessions to life in spectacular fashion, like they deserve.
Limited Edition
Cut from the Original Analog Master Tapes
Mastered by Kevin Gray and Steve Hoffman
Mastered at AcousTech
2LP 180 Gram Virgin Vinyl 45rpm
Pressed by RTI USA
"…As much as I'd love to relay all kinds of anecdotes about the challenges Steve Hoffman and Kevin Gray encounter during the mastering sessions, I witness none. These boys know the sound of the facility and the Van Gelder masters like the backs of their hands…Back home a month later, I unpack some test pressings Chad Kassem has sent me…I hear the most realistic-sounding drums ever reproduced by my system. It's as though I'm sitting at the point of creation, experiencing the same high that brought such gifted musicians together as one. Steve Hoffman, Kevin Gray, Chad Kassem, and Don MacInnis have done Rudy Van Gelder and his Blue Note artists proud." – Jason Victor Serinus, Stereophile
A dedicated disciple of Charlie Parker, alto saxophonist Lou Donaldson focused his energies on the bluesier aspects of his hero's playing and rendered it with a sweeter edge that fashioned him a viable career for decades. His work for Blue Note showed his impressive mastery of the bop style.
Musicians:
Dave Bailey, drums
Lou Donaldson, sax (alto)
Grant Green, guitar
Baby Face Willette, organ
Track Listing:
1. A Foggy Day
2. Here 'Tis
3. Cool Blues
4. Watusi Jump
5. Walk Wid Me
Click here to listen to samples on YouTube.com ♫