Stanley Turrentine Up At Minton's Vol.1 2LP 45rpm 180 Gram Vinyl Blue Note Analogue Productions RTI USA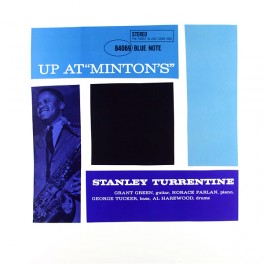 Maximize
The best albums from legendary Blue Note Records jazz catalogue get impeccable audiophile treatment by Analogue Productions, cut at 45rpm for ultimate sound quality by equaly legendary mastering engineers Kevin Gray and Steve Hoffman at AcousTech, preserving all the analog glory of the Original Master Tapes to bring these sessions to life in spectacular fashion, like they deserve.
Limited Edition
Numbered Edition
Mastered from the Original Analog Master Tapes
Cut by Kevin Gray and Steve Hoffman
Mastered at AcousTech
2LP 180 Gram Virgin Vinyl 45rpm
Pressed by RTI USA
"…As much as I'd love to relay all kinds of anecdotes about the challenges Steve Hoffman and Kevin Gray encounter during the mastering sessions, I witness none. These boys know the sound of the facility and the Van Gelder masters like the backs of their hands…Back home a month later, I unpack some test pressings Chad Kassem has sent me…I hear the most realistic-sounding drums ever reproduced by my system. It's as though I'm sitting at the point of creation, experiencing the same high that brought such gifted musicians together as one. Steve Hoffman, Kevin Gray, Chad Kassem, and Don MacInnis have done Rudy Van Gelder and his Blue Note artists proud." – Jason Victor Serinus, Stereophile
This is a perfectly solid record featuring tenor saxophonist Stanley Turrentine, guitarist Grant Green, pianist Horace Parlan, bassist George Tucker and drummer Al Harewood during a frequently exciting live set. Although recorded early in the careers of Turrentine and Green, both lead voices are easily recognizable with Green actually taking solo honors on several of the tracks. Standards and a couple of blues make up the repertoire, giving listeners a definitive look at the soulful Mr. T. near the beginning of his productive musical career.
Musicians:
Stanley Turrentine, tenor saxophone
George Tucker, bass
Al Harewood, drums
Grant Green, guitar
Horace Parlan, piano
Track Listing:
1. But Not For Me
2. Stanley's Time
3. Broadway
4. Yesterdays
Click here to listen to samples on YouTube.com ♫