Hank Mobley Sextet 2LP 45rpm 180g Vinyl Blue Note Records 1568 Mono Music Matters Jazz RTI USA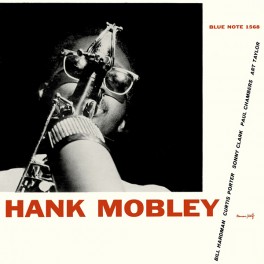 Maximize
From Music Matters impressive 45rpm Reissue Series, one of the best Blue Note titles and memorable Hank Mobley session recorded by Rudy Van Gelder. Audiophile mastering from Original Analog Master Tapes by Kevin Gray and Steve Hoffman at AcousTech on 2LP 45rpm 180 gram vinyl pressed at RTI and presented in a luxurious gatefold cover with stunning high resolution session photos.

Limited Edition
Numbered Edition
Only 1000 numbered Units available Worldwide
Remastered from the Original Rudy Van Gelder Blue Note Master Tapes
Remastered by Kevin Gray & Steve Hoffman at AcousTech
Double LP Cut at 45rpm for ultimate dynamics
180 Gram Virgin Vinyl pressed at RTI USA
Ultra-Durable Extra Thick Album Covers
Gatefold Cover with Session Photos in stunning High Resolution
Hank Mobley's tenor saxophone was such an integral part of the Blue Note sound that his albums were often given such basic names as Hank, Hank Mobley, Hank Mobley Quintet and Sextet. All that Blue Note fans needed to know was that Hank Mobley was on the job. That meant that they had to acquire the record, for Mobley was the definitive hard bop saxophonist and a sparkplug who made every session something special.

From the time that he emerged as a hot young tenor player who had worked with Max Roach, Dizzy Gillespie, the original version of the Jazz Messengers and the Horace Silver Quintet up until the end of the 1960s, Mobley was a regular on Blue Note, recording one memorable album after another.

This 1957 project simply titled Hank Mobley, in addition to fine contributions from trumpeter Bill Hardman and the great pianist Sonny Clark, is particularly special due to the playing and compositions of altoist Curtis Porter. Porter, who was later known as Shafi Hadi, is best remembered for his association with Charles Mingus but he sounds even more inspired and passionate on this album than he did with the explosive bassist. And with Hank Mobley in exceptional form, the result is a rare classic.

For many listeners, "Hank Mobley-1568" is an album that utterly defines hard bop and the Blue Note label. It is no wonder that an original copy of this LP fetches five figures!
Musicians:
Bill Hardman, trumpet
Curtis Porter, alto & tenor sax
Hank Mobley, tenor sax
Sonny Clark, piano
Paul Chambers, bass
Art Taylor, drums

Track Listing:
1. Mighty Moe And Joe
2. Falling In Love With Love
3. Bags' Groove
4. Double Exposure
5. News
Click here to listen to samples on YouTube.com ♫