Johnny Griffin ‎The Congregation 2LP 45rpm 180 Gram Vinyl Blue Note Records Music Matters Jazz RTI USA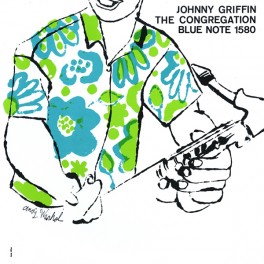 Maximize
From Music Matters impressive 45rpm Reissue Series, one of the best Blue Note titles and memorable Johnny Griffin session recorded by Rudy Van Gelder. Audiophile mastering from Original Analog Master Tapes by Kevin Gray and Steve Hoffman at AcousTech on 2LP 45rpm 180 gram vinyl pressed at RTI and presented in a luxurious gatefold cover with stunning high resolution session photos.

Limited Edition
Numbered Edition
Only 1000 numbered Units available Worldwide
Remastered from the Original Rudy Van Gelder Blue Note Master Tapes
Remastered by Kevin Gray & Steve Hoffman at AcousTech
Double LP Cut at 45rpm for ultimate dynamics
180 Gram Virgin Vinyl pressed at RTI USA
Ultra-Durable Extra Thick Album Covers
Gatefold Cover with Session Photos in stunning High Resolution
Johnny Griffin could play as rapidly as anyone but there was more to the great tenor than just speed. His warm and emotional tone was distinctive (be Coming an influence on Rahsaan Roland Kirk), he could play chorus after chorus of inventive and fresh ideas, and he was unbeatable in a saxophone battle.

Griffin even battled Eddie "Lockjaw" Davis (who had a much tougher tone) to a dead heat in nightly battles when they co-led a quintet in the 1960s. The Congregation is a superb outing full of heat, fire and intensity, with time out for thoughtful ballads. Teamed with pianist Sonny Clark in a quartet, Griffin is quite exuberant on the lengthy sanctified title cut which is reminiscent of the jubilant Horace Silver tune "The Preacher." He tears into "It' s You Or No One" and puts plenty of honest feeling into the other songs which are taken at a more moderate pace.

Johnny Griffin, like the very best jazz musicians, meant every note that he played and his solos were full of constant surprises, making his best recordings timeless. The Congregation is one of his finest albums.

Like all Music Matters Jazz releases, this audiophile vinyl reissue is mastered from the original analog tape and pressed on 180g virgin vinyl at RTI in Camarillo, CA. The highest quality gatefold cover features original session photography on the inside.
Musicians:
Johnny Griffin, tenor sax
Sonny Clark, piano
Paul Chambers, bass
Kenny Dennis, drums
Track Listing:
1. The Congregation
2. Latin Quarter
3. I'm Glad There Is You
4. Main Spring
5. It's You Or No One
Click here to listen to samples on YouTube.com ♫