Heat Music From The Motion Picture 2LP Cool Blue Vinyl Sound Track Limited Edition Warner 2019 USA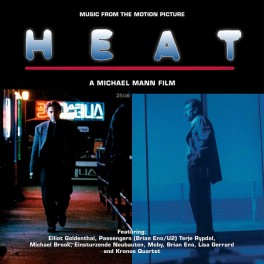 Maximize

Display all pictures
Artist:
Various
Title:
Heat Music From The Motion Picture
Catalog Number:
093624898214
Label:
Warner
Reissued by:
Warner
Barcode:
093624898238
Original release year:
1995
Reissue year:
2019
Number of discs:
2
Revolutions per minute:
33⅓ rpm
Disc size:
12"
Limited Edition:
Yes
Total Item Weight:
424gr
Pressing country:
Canada
For Market Release in:
USA
Added to catalog on:
January 26, 2020
Note:
Never eligible for any further discounts
Vinyl Gourmet Club:
No
For the first time on vinyl, music from the 1995 motion picture Heat, starring Al Pacino, Robert De Niro and Val Kilmer, features songs by Kronos Quartet, Moby, Brian Eno, Lisa Gerrard, Terje Rypdal, U2 (Passengers) and more. Michael Mann films are notable for their high quality soundtracks, and Heat is no exception, this is an incredible album on its own.
Limited Edition
Double LP
First time on vinyl
Cool Blue Vinyl
Made in Canada
Marking the first on-screen appearance of Al Pacino and Robert De Niro together in the same scene, Michael Mann's taut psychological 1995 drama Heat tells the story of an obsessive detective and a brilliant thief whose fates are linked in the aftermath of a high-stakes securities heist. The soundtrack consists of Academy Award winning composer Elliot Goldenthal's (Frida) atmospheric orchestral score as well as contributions from the U2/Brian Eno project Passengers, Kronos Quartet, Lisa Gerrard (Dead Can Dance), Moby and Terje Rypdal. The New York Times called it, "an artfully assembled montage of industrial rock, darkly romantic symphonics and moody jazz guitar [that] evokes a nightmarish Los Angeles of dashed hopes and soiled glamour..." Available on vinyl for the first time as a colored 2LP-set!
Track Listing:
01. Heat - Kronos Quartet
02. Always Forever Now - Passenger (Brian Eno/U2)
03. Condensers
04. Refinery Surveillance - Kronos Quartet
05. Last Nite - Terje Rypdal & The Chasers
06. Ultramarine - Michael Brook
07. Armenia - Einsturzende Neubauten
08. Of Helplessness
09. Steel Cello Lament
10. Mystery Man - Terje Rypdal
11. New Dan Fades - Moby
12. Entrada & Shootout
13. Force Marker - Brian Eno
14. Coffee Shop
15. Fate Scrapes
16. La Bas (edited) - Lisa Gerrard
17. Gloradin - Lisa Gerrard
18. Run Uphill
19. Predator Diorama - Kronos Quartet
20. Of Separation
21. God Moving Over the Face of The Waters - Moby
Click here to listen to samples on YouTube.com ♫