Ornette Coleman The Shape Of Jazz To Come 2LP 45rpm 180g Vinyl ORG Music Bernie Grundman Pallas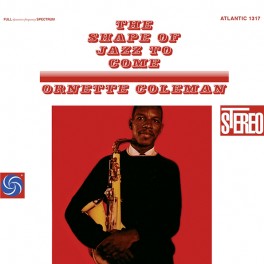 Maximize

Display all pictures
Artist:
Ornette Coleman
Title:
The Shape Of Jazz To Come
Catalog Number:
ORGM-1081
Label:
Atlantic
Reissued by:
ORG Music
Barcode:
711574707218
Original release year:
1959
Reissue year:
2013
Number of discs:
2
Revolutions per minute:
45 rpm
Disc size:
12"
Vinyl Weight Grade:
180gr
Limited Edition:
Yes
Total Item Weight:
591gr
Pressing country:
Germany
For Market Release in:
USA
Added to catalog on:
September 5, 2014
Collection:
Atlantic Jazz Series
Note:
Not eligible for any further discounts
Vinyl Gourmet Club:
Yes
Truly a game changer, 1959's The Shape Of Jazz To Come marked the start of a new Jazz Language that would change the evolution of music in a dramatic way. Ornette Coleman abandons chords and scales structure, switches the tenor for the alto sax, and creates a masterpiece with Charlie Haden and Don Cherry. Audiophile remaster from Original Master Tapes by Bernie Grundman sounds stunning!
5 Stars rating from All Music
Penguin Guide to Jazz gives it their top rating of 4/4 Stars & Crown Award
Rolling Stone 500 Greatest Albums of All Time Rated 248/500
Limited Edition
Audiophile Double LP 45rpm
Mastered from Original Analog Master Tapes
Mastered by Bernie Grundman
180 grams Vinyl Pressed at Pallas Germany
Gatefold Cover

1959's landscape-shifting The Shape of Jazz to Come is true to its title. Switching from tenor to alto sax, Ornette Coleman creates free jazz, a language where chords structures are absent and harmony gives way to improvisational whims. Ranked by Rolling Stone in the top 250 of its 500 Greatest Albums of All Time, the Atlantic set finds Coleman collaborating with Don Cherry, Charlie Haden, and Billy Higgins in making a masterful work free of any identifiable chord structures. Nonetheless, melodies remain, as do engrossing repetitions of main themes.

ORG Music brings the breakthrough arrangements and magnificent colors to life in a way no one's experienced since the LP was recorded. Mastered from the original master tapes, this life-changing music has never sounded so alive and dynamic.

"One of the 20 Essential Free Jazz Albums" - Chris Kelsey, All Music Guide

"The structure (if that is what it can be called) of the six pieces comprising The Shape Of Jazz To Come is presentation of a theme (or traditional head) followed by free improvisation in the solo sections by Coleman and cornetist Don Cherry followed by restatement of the theme, multiple times, in some cases. Coleman hits upon his most empathic band with bassist Charlie Haden and drummer Billy Higgins, who remain reluctant last attachments to the old ways, providing a rock-solid swing to the recording as well as their own informed solo sections without interfering with Coleman's direction.

Coleman's approach is not unlike that employed by trumpeter Miles Davis that same year on Kind Of Blue (Columbia), recorded on March 2 and April 22, 1959, where Davis entered the studio with sketches of pieces and directed the band to improvise over scales rather than chords. What Coleman did differently with The Shape Of Jazz To Come (recorded May 22, 1959) was to do away with even scalar organization, opening up the solo canvas not simply two-dimensionally, but to fully four dimensions. The result to the jazz world was a full assault on two fronts that would eventually pave the way for post bop and fusion and bolder free jazz exploration." All About Jazz
Musicians:

Ornette Coleman, alto sax
Donald Cherry, cornet
Charlie Haden, bass
Billy Higgins, drums

Track Listing:

LP1 Side A
1. Lonely Woman
2. Eventually

LP1 Side B
1. Peace

LP2 Side C
1. Focus on Sanity

LP2 Side D
1. Congeniality
2. Chronology

Click here to listen to samples on YouTube.com ♫