Lee Ritenour ‎The Vinyl LP Collection 5LP 180 Gram Vinyl Numbered Limited Edition Box Set Concord USA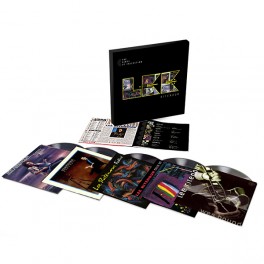 Maximize

Display all pictures
Artist:
Lee Ritenour
Title:
The Vinyl LP Collection
Catalog Number:
CRE-37955-01
Label:
GRP
Reissued by:
Concord Music Group
Barcode:
888072379558
Original release year:
1986
Reissue year:
2016
Number of discs:
5
Revolutions per minute:
33⅓ rpm
Disc size:
12"
Vinyl Weight Grade:
180gr
Extras:
40 Page Booklet
Limited Edition:
Yes
Numbered Edition:
Yes
Total Item Weight:
2012gr
Pressing country:
USA
For Market Release in:
USA
Added to catalog on:
November 24, 2019
Note:
Never eligible for any further discounts
Vinyl Gourmet Club:
No
Celebrating the career of Lee Ritenour, The Vinyl LP Collection is a limited edition numbered box set containing five classic albums by the renowned guitarist, each remastered and pressed on 180g vinyl, with original artwork and liner notes. An accompanying 40-plus page book contains new liner notes by Ritenour, plus never-before-seen photos and memorabilia sourced from his personal collection.
Limited Edition (2500 units)
Individually Numbered Edition
180 Gram Vinyl 5LP Box Set
5 Classic Albums with Restored Artwork
New Liner Notes & 40-Page Book
In April 2016, Concord Records will release The Vinyl LP Collection: a limited-edition, individually numbered box set celebrating a key period in the prolific solo career of renowned guitarist Lee Ritenour. The Collection contains five classic LPs by Ritenour: Earth Run (1986), Portrait (1987), Festival (1988), Color Rit (1989) and, on vinyl for the first time, the Grammy Award-nominated Wes Bound (1993). These albums have each been remastered, pressed on audiophile-quality, 180-gram vinyl and restored with original artwork and liner notes. An accompanying 46-page booklet contains new liner notes by Ritenour plus never-before-seen photos and ephemera, all culled from an extensive scrapbook collection lovingly kept by the guitarist's late father.

The Vinyl LP Collection presents a fertile period in a storied career, which began at the age of 16, when Ritenour was hired as a session guitarist for the Mamas and the Papas, who dubbed him "Captain Fingers" for demonstrating incredible dexterity. Throughout the next decade, Ritenour became one of the most prolific session guitarists, working with the likes of Steely Dan, Pink Floyd, Aretha Franklin, Tony Bennett and Quincy Jones. Ritenour's solo work has earned him a Grammy Award and 19 Grammy nominations. He has recorded more than 40 albums that have yielded 35 charting tracks, and he is widely recognized as one of the best guitarists of his generation.

"For us music lovers and folks who play music, vinyl is still the most amazing way to listen to and appreciate music," proclaims Ritenour in his liner notes. "I'm thrilled that Concord Records and myself can present these five records remastered on 180-gram vinyl." The Vinyl LP Collection includes such personnel as Academy Award-winning composer Dave Grusin, Grammy Award-winning pianist Alan Broadbent, and Grammy Award-winning composer David Foster, plus celebrated Brazilian artist Caetano Veloso.

Individually numbered 180g 5LP box set Includes remastered editions of Earth Run (1986), Portrait (1987), Festival (1988), Color Rit (1989) & on vinyl for the first time, the Grammy Award-nominated Wes Bound (1993), with Accompanying 46-page booklet contains new liner notes by Ritenour plus never-before-seen photos and ephemera, all culled from an extensive scrapbook collection lovingly kept by the guitarist's late father
Track Listing:
Side A:
1. Soaring
2. Earth Run
3. If I m Dreamin (Don't Wake Me)
4. Watercolors

Side B:
5. The Sauce
6. Butterfly
7. Sanctuary
8. Water From the Moon

Side C:
1. Asa
2. Turn the Heat Up
3. Windmill
4. White Water

Side D:
5. Portrait
6. G-Rit
7. Shades in the Shade
8. Children s Games
9. Runaway

Side E:
1. Night Rhythms
2. Latin Lover
3. Humana
4. Rio Sol

Side F:
5. Odile, Odila
6. Voce É Linda
7. New York / Brazil
8. The Inner Look

Side G:
1. Bahia Funk
2. É
3. All the Same Tonight
4. Mister Reggae
5. Etude

Side H:
6. I Can t Let Go
7. Color Rit
8. The Kiss
9. Malibu

Side I:
1. Wes Bound
2. Boss City
3. 4 on 6
4. A Little Bumpin
5. Ocean Ave

Side J:
6. Waiting in Vain
7. Goin on to Detroit
8. A New Day
9. Road Song
10. West Coast Blues
Click here to listen to samples on YouTube.com ♫