Stockfisch Records Vinyl Collection Vol. 2 LP 180g Vinyl Direct Metal Master Cut Audiophile Series EU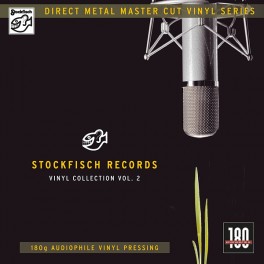 Maximize
Artist:
Stockfisch Records
Title:
Vinyl Collection Vol. 2
Catalog Number:
SFR 357.8009.1
Label:
Stockfisch Records
Barcode:
4013357800915
Original release year:
2011
Number of discs:
1
Revolutions per minute:
33⅓ rpm
Disc size:
12"
Vinyl Weight Grade:
180gr
Total Item Weight:
342gr
Pressing country:
EU
For Market Release in:
EU
Added to catalog on:
November 4, 2019
Note:
Never eligible for any further discounts
Vinyl Gourmet Club:
No
Fantastic sampler disc from German audiophile house Stockfisch Records. A selection of 10 extraordinary tracks from current and future Stockfisch repertoire compiled for another vinyl LP of uncompromising quality on 180g vinyl DMM cut audiophile pressing, in a Gatefold Cover with detailed insert, photos and explanations. Audiophile Demo Quality Sound takes you system to the limit.
Heavy Weight High Quality 180g Vinyl LP
DMM Direct Metal Master Cut Vinyl
Pre-mastering by Hans-Jorg Maucksch
DMM Disc Cutting by Hendrik Pauler
Mastering Monitors: B&W Nautilus 801 D
Made in Germany
Direct Metal Mastering Pressed on High Quality 180 Gram Vinyl! Enjoyable Listening, Audiophile Sound! A great introduction to Stockfisch artists!

It is astonishing and pleasing: in the face of downloads and MP3 there is still a market demand for the vinyl LP, which is already 60 years old. Stockfisch, therefore, releases the second volume of their Vinyl Collection containing ten tracks featuring known and new Stockfish artists.

Stockfisch compiled the tracks for Volume 2 of the Vinyl Collection following the established criteria of the 'Closer To the Music' compilations. On one hand they want to offer samples of current Stockfisch albums, on the other hand they would like to give a sneak peek on their future recordings.

For the first time available on vinyl are one of Allan Taylor's songs from the Porsche/Burmester session, Ewen Carruthers "That Train" - paying homage to the English singer/songwriter who departed in 2010, Paul O'Brien - the Irish melancholic songwriter from Canada, the Australian folk-duo Carl & Parissa, and David Munyon's new album Pretty Blue.

The unreleased song from Katja Maria Werker's first Stockfisch album, "Mitten Im Sturm", the guitar piece played by the virtuoso Ralf Illenberger, who had recorded with Stockfisch Records in the '70s, and lives in the U.S.A. today, furthermore a wonderful song from Paul Stephenson's third album, (to be release in 2012), are among those Stockfisch is excited to introduce.

The label is also glad to present an unreleased piece with the outstanding guitarist Chris Jones who passed away in 2005. During a studio session in 2001, a remarkable instrument, a Dreadnought, made by Moritz C. Sattler (Manzanita), caught Chris' eyes. He couldn't stop improvising with his guitar - and happily Stockfisch let the tape keep running.
Track Listing:
01. Tief Im Innern - Katja Maria Werker
02. That Train - Ewen Carruthers
03. Frogs - Ralf Illenberger
04. Paul O'Brien - He Can Dance
05. Westwinds - McKinley Black
06. Let the Music Flow - Allan Taylor
07. Into the Light - Carl Cleves & Parissa Bouas
08. Improvisation - Chris Jones
09. Carolina Song - David Munyon
10. Now So Far - Paul Stephenson