The Beach Boys Holland 2LP 200 Gram Audiophile Vinyl Kevin Gray Analogue Productions QRP 2016 USA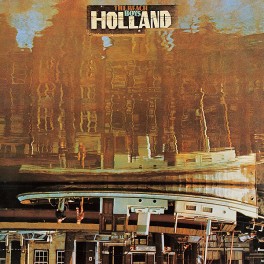 Maximize
Analogue Productions set out to produce the best The Beach Boys editions ever made, with impeccable all analog cuts by Kevin Gray on 200 Gram Audiophile Vinyl pressed at Quality Record Pressings, QRP in the USA. These are the most influential The Beach Boys albums, presented in deluxe 'old school' Stoughton tip-on covers, this series was conceived to better the original releases in every way.
Limited Edition
2LP 200 Gram Audiophile Vinyl
Mastered by Kevin Gray at Cohearent Audio
Cut from the Original Master Tapes (or best sources available)
Lacquer plating by Gary Salstrom
Pressed at Quality Record Pressings USA
Gatefold Cover by Stoughton Printing
Disc 2 EP Side 3 is 33 1/3 cut of "Mount Vernon and Fairway (A Fairy Tale)"

Disc 2 EP Side 4 is 45 RPM bonus cut "Sail on Sailor"
The ultimate pressings of the Beach Boys discography from Analogue Productions! Holland in 33 1/3 RPM Stereo only; "Sail On Sailor" 45 RPM bonus track together with 12-inch EP included!

Disc 2 EP: Side 3 is 33 1/3 cut of "Mount Vernon and Fairway (A Fairy Tale)". Disc 2 EP: Side 4 is 45 RPM bonus cut "Sail on Sailor".

Produced by the Beach Boys, Audio production — Mark Linett / For Brother Records — Elliott Lott

Mastered by Kevin Gray at Cohearent Audio, most from the original master tapes or best sources available, Lacquer plating by Gary Salstrom and 200-gram vinyl pressing by Quality Record Pressings!

"These are the best sounding and best-looking versions of the Beach Boys records that have ever been produced. We want everything about these to be better than the original." — Chad Kassem, owner and CEO, Acoustic Sounds

"First released in 1973 during the period that's still being rediscovered by many, this LP opened with a relatively familiar 'Sail On, Sailor.' The rest, however, is not of a high enough calibre to supplant the earlier Surf's Up as among the best of this era. (I expect hate mail from those who love Carl & The Passions — So Tough.) It's still so gorgeous, sound-wise, as only a Beach Boys album can be, that devoted fans won't mind the lack of focus. Analogue Productions has made it a double by adding a second LP containing the original's bonus EP, and Side 4 is the 45 RPM cut of 'Sail On, Sailor.' It's also available on SACD (CAPP 071 SA) with the extra EP tracks." — Sound Quality = 85% - Ken Kessler, HiFi News, January 2017

"The original is a standard jacket with a lyric insert and of course includes the EP. To make this work as a gatefold double LP with inside artwork that includes the EP cover art must have taken some time, effort and expense. It's been very well done." — Michael Fremer, AnalogPlanet.com. Read the whole review here.

"What I can say is that Kevin Gray has been able to extract every last bit of information from whatever tape is in the box, and present it in a way that is pleasing and natural to the ear. ... in my opinion, the Analogue Productions pressings are now THE definitive issue of each Beach Boys album, and will be my reference copies until if and when something better comes along — which may be never." — Lee Dempsey, Endless Summer Quarterly, Summer 2015 Edition

A musical legacy that began in Hawthorne, California and went on to conquer the world. Analogue Productions presents the ultimate pressings of 14 essential Beach Boys albums! Mastered by Kevin Gray, most from the original master tapes, and plated and pressed by Quality Record Pressings, the finest LP pressing facility in the world, these are awesome recordings to experience. And the look of each album befits its sonic superiority! Presented in "old school" Stoughton tip-on jackets, these time honored favorites shine brighter than the originals!

The Beach Boy's Holland, the group's 19th studio album, was recorded in Baambrugge, Netherlands in the summer of 1972 and released in January 1973. Our Analogue Productions reissue also includes a bonus 12-inch EP: Mount Vernon and Fairway (A Fairy Tale). Side 4 of the EP is a 45 RPM Bonus Cut of "Sail On Sailor" — Holland's famed lead track!

By mid-1972, with Wilson's focus waning from the Beach Boys to other creative outlets, and his personal and health-related issues mounting, Wilson was producing less music for the band than ever before. They decamped for the Netherlands hoping to jump-start Brian's creative energies.

Wilson contributed little to the album, concentrating his musical efforts on Mount Vernon and Fairway, a 10-minute long "musical fairy tale" eventually included with the album as a bonus EP.

The title of the bonus EP was named after the intersection where the Love family lived in Los Angeles, and where the Wilsons and Loves would gather for family celebrations back in the 1940s and '50s when Brian, Mike, Carl and Dennis were all growing up. As a concept for a Beach Boys track, "Mount Vernon and Fairway" initially received a less than enthusiastic response from the other band members when Brian first presented the idea to the group, and this only fueled Brian's steadily worsening depression. Eventually, Carl stepped in to produce the recording for Brian, and the decision was made to include the fairy tale in the album package as a separate EP. Brian himself designed the EP's picture sleeve.

Although Mount Vernon and Fairway (A Fairy Tale) was narrated by Jack Rieley, the voice of the Pied Piper was supplied by Brian in a slightly grainier-sounding "cartoon" voice. The instrumental tracks for Mount Vernon and Fairway (A Fairy Tale) were later released on Good Vibrations: Thirty years of The Beach Boys as "Fairy Tale Music."

Upon the band's return from the Netherlands in the fall, Holland was rejected by Reprise Records for not having a potential hit single. Added to the track list was an unfinished Brian Wilson song "Sail On, Sailor," that he'd originally co-written with Ray Kennedy, and finally completed with the help of Van Dyke Parks, Jack Reiley and Tandyn Almer. It would ultimately become Holland's most famous track. A casualty of the album's tracklist reshuffling was another Fataar/Chaplin tune, written with Mike Love, called "We Got Love." A live version was included on the group's 1973 release The Beach Boys In Concert.

"The highlights (of Holland are) Carl's 'The Trader,' Brian's 'Sail on, Sailor' and 'Funky Pretty' ... Al Jardine and Mike Love's three-part 'California Saga' shows the effects of their environmentalist spirituality ...(the conclusion, 'California,' is a solid return to the harmony-laden sun-and-surf '60s). 'Only with You' is yet another tender Dennis Wilson ballad, (a rare songwriting collaboration with Mike Love), given an excellent reading by Carl." — AllMusic
Track Listing:
Side A
1. Sail On Sailor
2. Steamboat
California Saga
3. Part One: Big Sur
4. Part Two: The Breaks Of Eagles
5. Part Three: California

Side B
1. The Trader
2. Leaving This Town
3. Only With You
4. Funky Pretty
12" Mount Vernon EP

Side A
1. Mt. Vernon And Fairway - Theme
2. I'm The Pied Piper
3. Better Get Back In Bed
4. Magic Transistor Radio

Side B
1. I'm The Pied Piper
2. Raido Kingdom
3. We've Got Love
Click here to listen to samples on YouTube.com ♫