The Beach Boys Surfer Girl 2LP 45rpm 200g Vinyl Stereo Analogue Productions Kevin Gray QRP 2017 USA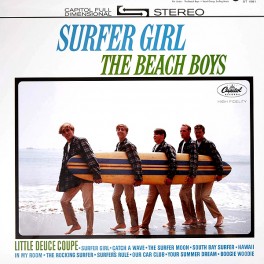 Maximize
Analogue Productions set out to produce the best The Beach Boys editions ever made, with impeccable all analog cuts by Kevin Gray on 200 Gram Audiophile Vinyl pressed at Quality Record Pressings, QRP in the USA. These are the most influential The Beach Boys albums, presented in deluxe 'old school' Stoughton tip-on covers, this series was conceived to better the original releases in every way.
Michael Fremer's 100 Recommended All-Analog LP Reissues Worth Owning
Limited Edition
2LP cut at 45rpm for ultimate sound quality!
200 Gram Audiophile Vinyl
Mastered by Kevin Gray at Cohearent Audio
Cut from the Original Master Tapes (or best sources available)
Lacquer plating by Gary Salstrom
Pressed at Quality Record Pressings USA
Gatefold Cover by Stoughton Printing
Stereo
The ultimate pressings of the Beach Boys discography from Analogue Productions!

Audio production — Mark Linett / For Brother Records — Elliott Lott

Mastered by Kevin Gray at Cohearent Audio, most from the original master tapes or best sources available. Double LP 45 RPM pressing! Deluxe gatefold tip-on jacket from Stoughton Printing! Lacquer plating by Gary Salstrom and 200-gram vinyl pressing by Quality Record Pressings!

"These are the best sounding and best-looking versions of the Beach Boys records that have ever been produced. We want everything about these to be better than the original." — Chad Kassem, owner and CEO, Acoustic Sounds

A musical legacy that began in Hawthorne, California and went on to conquer the world. Analogue Productions presents the ultimate pressings of 14 essential Beach Boys albums! Mastered by Kevin Gray, most from the original master tapes, and plated and pressed by Quality Record Pressings, the finest LP pressing facility in the world, these are awesome recordings to experience. And the look of each album befits its sonic superiority! Presented in "old school" Stoughton tip-on jackets, these time honored favorites shine brighter than the originals!

Surfer Girl, the Beach Boys' third album for Capitol Records, was the first produced by Brian Wilson on his own (the previous two, Surfin Safari and Surfin Usa (Mono & Stereo Remasters), were co-produced by the late Capitol A&R man, Nick Venet). This album was The Boys' first really great effort; there's not a bad track in the lot, including the title song, "Catch A Wave," "In My Room," "Hawaii," "Our Car Club," "Little Deuce Coupe," "Your Summer Dream," and more.

Apart from Surfin' Safari, which was mono only, the Beach Boys did turn in stereo masters on all of their early albums up until 1965. The Beach Boys Today! was the first LP for which they only delivered a mono master. The stereo editions of Surfin' USA, Surfer Girl, Little Deuce Coupe, Shut Down Vol. 2, All Summer Long, Beach Boys Christmas Album and Beach Boys Concert were all mixed in stereo by their own preferred engineer, Chuck Britz, ostensibly under the group's supervision.

"Brian may or may not have been present for those mixing sessions — evidence suggests that he trusted Chuck's skills enough to let him prepare those mixes on his own — but the group held onto their multitrack tapes and delivered stereo masters to Capitol, rather than allowing Capitol to prepare their own stereo versions. Later, when Brian was only delivering mono masters, Capitol would prepare the Duophonic pseudo stereo editions for the stereo market," says Alan Boyd, producer and Beach Boys' archivist.

The Beach Boys' practice of double-tracking their vocals really lends itself to stereo mixes. Split left and right, as they are on a lot of those early stereo versions, those doubled vocal parts can really envelop the listener, surrounding them with Wilsons, Loves and Jardines!

All of the newer stereo mixes on these remastered albums (The Beach Boys Today!, Summer Days (And Summer Nights!!), The Beach Boys' Party, Pet Sounds and Smiley Smile) were all done by Mark Linett on behalf of the Beach Boys.
Track Listing:
01. Surfer Girl
02. Catch A Wave
03. The Surfer Moon
04. South Bay Surfer
05. The Rocking Surfer
06. Little Deuce Coupe
07. In My Room
08. Hawaii
09. Surfer's Rule
10. Our Car Club
11. Your Summer Dream
12. Boogie Woodie
Click here to listen to samples on YouTube.com ♫