Johnny Hodges Blues A Plenty 2LP 45rpm 200 Gram Vinyl Verve Sterling Analogue Productions QRP USA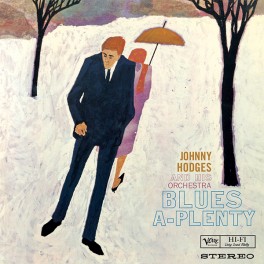 Maximize
Artist:
Johnny Hodges
Title:
Blues-A-Plenty
Catalog Number:
AP-6123 / MG VS-6123
Label:
Verve
Reissued by:
Analogue Productions
Barcode:
753088612312
Original release year:
1958
Reissue year:
2013
Number of discs:
2
Revolutions per minute:
45 rpm
Disc size:
12"
Vinyl Weight Grade:
200gr
Limited Edition:
Yes
Total Item Weight:
603gr
Pressing country:
USA
For Market Release in:
USA
Added to catalog on:
October 19, 2019
Collection:
Analogue Productions Verve Series
Note:
Never eligible for any further discounts
Vinyl Gourmet Club:
Yes
The best albums from legendary Verve Records jazz catalogue get impeccable audiophile treatment by Analogue Productions, cut at 45rpm for ultimate sound quality by equaly legendary mastering engineer George Marino at Sterling Sound, preserving all the analog glory of the Original Master Tapes to bring these sessions to life in spectacular fashion, like they deserve.
Limited Edition
Double LP 45rpm on 200 Gram Vinyl
Pressed at QRP USA
Mastered by George Marino at Sterling Sound
Cut from the Original Analog Master Tapes
"...these are all truly classic Verve titles that you simply don't want to miss...most importantly, the sound of these reissues is nothing short of astounding. Particularly the early Billie and Ella mono records are incredible treasures of sonic beauty. I'd definitely ask Santa for the whole set, or, if you want to cherry pick, the most classic titles. Whatever you decide, you owe yourself at least a half dozen!" Winner of a 2012 Positive Feedback Online Writers' Choice Award - Danny Kaey, Positive Feedback Online
One of the giants of the alto saxophone, Johnny Hodges was perhaps the most important soloist and sideman in Duke Ellington's orchestra from 1928 up to Hodges' death in 1970. The self-taught player made many solo forays during his long career - one of his '50s outfits included a young John Coltrane - but history remembers Hodges for his virtuosic sidemanship, particularly his sensitive rendering of ballads. Originally released in 1958.
Musicians:
Johnny Hodges, alto saxophone
Ben Webster, tenor saxophone
Roy Eldridge, trumpet
Vic Dickenson, trombone
Billy Strayhorn, piano
Jimmy Woode, bass
Sam Woodyard, drums

Track Listing:
1. I Didn't Know About You
2. Cool Your Motor
3. Gone With the Wind
4. Honey Hill
5. Blues-A-Plenty
6. Don't Take Your Love From Me
7. Saturday Afternoon Blues
8. Satin Doll
9. Reeling and Rocking
Click here to listen to samples on YouTube.com ♫