Frank Zappa Mothermania The Best Of The Mothers LP 180 Gram Vinyl Bernie Grundman Pallas 2019 EU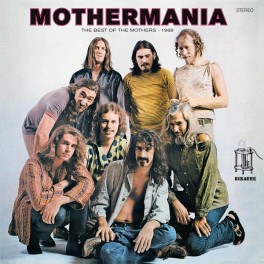 Maximize

Display all pictures
Artist:
Frank Zappa
Title:
Mothermania
Catalog Number:
ZR3840-1
Label:
Verve
Reissued by:
Zappa Records
Barcode:
0824302384015
Original release year:
1969
Reissue year:
2019
Number of discs:
1
Revolutions per minute:
33⅓ rpm
Disc size:
12"
Vinyl Weight Grade:
180gr
Total Item Weight:
340gr
Pressing country:
Germany
For Market Release in:
EU
Added to catalog on:
September 29, 2019
Collection:
Frank Zappa Official Release
Note:
Never eligible for any further discounts
Vinyl Gourmet Club:
No
Assembled by Frank Zappa 50 years ago in response to the multitude of bogus compilations being created by his previous record company, Mothermania contains exclusive mixes and is treated with All Analog production from the original 1969 master tape by Bernie Grundman at Bernie Grundman Mastering, 2019. Pressed on 180 Gram Audiophile Vinyl by Pallas in Germany.
LP 180 Gram Vinyl
Cut from the 1969 Original Master Tapes
Cut by Bernie Grundman Mastering
Gatefold Cover
Pressed at Pallas in Germany
Frank Zappa Records Official Release #7
The lionized Mothermania - The Best Of The Mothers compilation album was originally released in March 1969, created by Frank Zappa in a resolution agreement with MGM Verve over censorship and their endless unauthorized and unappreciated by the artist compilations from the original albums then in release by Verve. Although the songs on the album were released previously on Freak Out, Absolutely Free, and We're Only In It For The Money, it contains unique mixes/edits done specifically for this collection by Zappa himself, including an uncensored version of "Mother People" (previously censored on WOIIFTM,) as well as a completely different mix of "The Idiot Bastard Son."

1969 compilation from Frank Zappa and The Mothers Of Invention. Mothermania, subtitled The Best of the Mothers, is a compilation album by The Mothers of Invention. While the songs were previously released on Freak Out!, Absolutely Free and We're Only in It for the Money, the compilation contains unique mixes or edits done specifically for this compilation.
Track Listing:
01. Brown Shoes Don't Make It
02. Mother People
03. The Duke Of Prunes
04. Call Any Vegetable
05. The Idiot Bastard Son
06. It Can't Happen Here
07. You're Probably Wondering Why I'm Here
08. Who Are The Brain Police
09. Plastic People
10. Hungry Freaks, Daddy
11. America Drinks & Goes Home
Click here to listen to samples on YouTube.com ♫