George Duke The Aura Will Prevail LP 180 Gram Vinyl MPS Audiophile Analogue AAA Series Optimal EU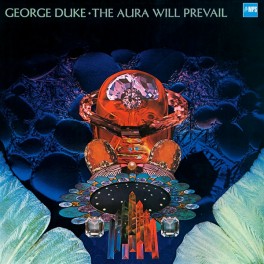 Maximize

Display all pictures
Artist:
George Duke
Title:
The Aura Will Prevail
Catalog Number:
20 25613-8
Label:
MPS
Reissued by:
MPS
Barcode:
4029759128588
Original release year:
1975
Reissue year:
2018
Number of discs:
1
Revolutions per minute:
33⅓ rpm
Disc size:
12"
Vinyl Weight Grade:
180gr
Total Item Weight:
295gr
Pressing country:
Germany
For Market Release in:
EU
Added to catalog on:
September 23, 2019
Collection:
MPS AAA Reissue Series
Note:
Never eligible for any further discounts
Vinyl Gourmet Club:
No
With its intensive quartet, this 1975 recording again mirrors how far Duke, by his own admission, had moved away from the "smug and overly serious jazz musician" and towards a master of fusion, eager to experiment and add a note of humor to the music. With Santana drummer Leon "Ndugu" Chancler, bassist Alphonso "Slim" Johnson, and the Brazilian percussion magician Airto Moreira, Duke designed stunning scenarios in sound which once more reveals him to be one of the synthesizer pioneers.
Audiophile Analogue Remastering
Remastered by Christoph Stickel and Dirk Sommer
Reforest The Legend MPS AAA Reissue Series
180 Gram Audiophile Vinyl
Pressed at Optimal Media in Germany
Large insert with photo of the Original Master Tape box
MPS head Hans Georg Brunner-Schwer discovered 20-year-old George Duke by chance during a concert in San Francisco in 1966. A long partnership developed out of this unexpected meeting, topped off by a series of albums that Duke recorded for MPS during his Zappa phase.
On "Dawn" he paints a fanciful daybreak atmosphere on the keyboards. On "Floop De Loop" he releases funky rushing rivulets from the keyboards. Whereas on the smooth rock piece "For Love" and soft ballad "Fools", he appears on the scene as a soulful singer. There's something slightly naughty coursing through the bluesy, laid-back funk miniature, "Foosh". Duke's former collaboration with the Mothers of Invention colored his versions of Zappa's "Echidna's Arf" and "Uncle Remus". There's a samba touch in the relaxed tropical magic of "Malibu", and the outro "The Aura" also swings to a Latin feel.
Musicians:
George Duke, Rhodes electric piano, Hohner clavinet, Arp Odyssey, Mini Moog, Wurlitzer electric piano, Arp String Ensemble, Moog bass (A3, B3), Mutron Phaser, Mutron Dual Phaser, pedals, vocals
Leon "Ndugu" Chancler, drums, congas, mystery voice on A2, vocal on B1
Alphonse "Slim" Johnson, electric bass (except A3, B3)
Airto Moreira, percussion (A1, B1)
Sylvia St. James, vocals (B1)
Kathy Woehrle, vocals (B1)
Gee Janzen, vocals (B1)
Track Listing:
Side A
1. Dawn
2. For Love (I Come Your Friend)
3. Foosh
4. Floop De Loop

Side B
1. Malibu
2. Fools
3. Echidna's Arf
4. Uncle Remus
5. The Aura
Click here to listen to samples on YouTube.com ♫