Kimiko Kasai With Herbie Hancock ‎Butterfly LP 180 Gram Vinyl Be With Records Limited Edition 2018 EU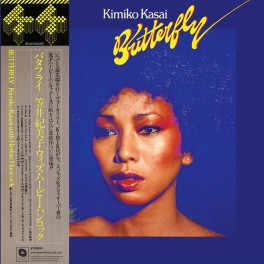 Maximize
Artist:
Kimiko Kasai
Title:
Butterfly
Catalog Number:
BEWITH028LP
Label:
CBS
Reissued by:
Be With Records
Barcode:
5050580687448
Original release year:
1979
Reissue year:
2018
Number of discs:
1
Revolutions per minute:
33⅓ rpm
Disc size:
12"
Vinyl Weight Grade:
180gr
Extras:
4 Page Insert and OBI Strip
Limited Edition:
Yes
Total Item Weight:
330gr
Pressing country:
UK
For Market Release in:
EU
Added to catalog on:
August 9, 2019
Note:
Never eligible for any further discounts
Vinyl Gourmet Club:
No
First ever official reissue of the positively sublime and very rare Butterfly LP, recorded in Tokyo in 1979 by Japanese songstress Kimiko Kasai and jazz legend Herbie Hancock. Orignally released as a Japan-only edition, this exquisite collection of covers presents incredibly inspired performances from Kasai, Hancock and the supremely talented musicians assembled for the project.
Limited Edition
180 Gram Vinyl
First ever official reissue
First time available outside of Japan
Faithfully restored artwork
4 page insert with Japanese obi strip
Mastered by Simon Francis
Due to its super-rare status as a Japan-only release, this exquisite collection of covers never got the recognition it deserved at the time, despite incredibly inspired performances from Kimiko, Herbie and the supremely talented musicians assembled for the project. From heavenly drummer Alphonse Mouzon and renowned organist Webster Lewis to bassist Paul Jackson, reedman Bennie Maupin and the master percussionist Bill Summers, the legendary performers crafted amazingly good vocal versions of Herbie / Headhunters jazz-funk. Unsurprisingly, it has been heavily in demand for many years.

The LP opens with Kimiko's highly desirable version of "I Thought It Was You", an elegant take on Herbie's own anthem. Other superb re-workings include the delicately soulful "Butterfly", jazzy groover "Sunlight", the smooth and sexy "Tell Me A Bedtime Story" and the beautiful ballads "Maiden Voyage" and "Harvest Time". A wonderful example of perfectly understated and masterful jazz-funk soul fusion that shouldn't be missed, the set closes with a jaw-dropping version of Stevie Wonder's "As". This lovingly curated reissue enables a long overdue reappraisal of this hitherto unavailable masterpiece.

The stunning artwork which adorned the original jacket – complete with OBI strip and sumptuous 4 page folded insert – has been faithfully restored. Simon Francis' sensitive mastering elevates the sound throughout and, as ever, it has been pressed at a reassuringly weighty 180g. Essential.
Musicians:

Kimiko Kasai, vocals
Herbie Hancock, backing vocals, clavinet, electric piano, synthesizer, vocoder
Webster Lewis, piano (A3), synthesizer
Alphonse Mouzon, drums
Paul Jackson, bass
Ray Obledo, guitar
Bill Summers, percussion
Benny Maupin, soprano sax, tenor sax
Mari Kaneko, backing vocals (A3, B2)
Yuka Kamebachi, backing vocals (A3, B2)
Track Listing:

Side A
1. I Thought It Was You
2. Tell Me A Bedtime Story
3. Head In The Clouds
4. Maiden Voyage

Side B
1. Harvest Time
2. Sunlight
3. Butterfly
4. As
Click here to listen to samples on YouTube.com ♫