Kenji Kawai Ghost In The Shell LP Vinyl Original Soundtrack WRWTFWW Records 2017 EU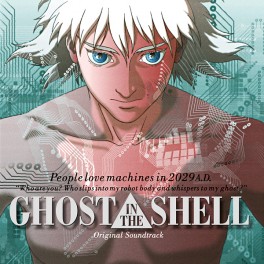 Maximize
Artist:
Kenji Kawai
Title:
Ghost In The Shell
Catalog Number:
WRWTFWW017
Label:
RCA
Reissued by:
WRWTFWW
Barcode:
7640153366719
Original release year:
1995
Reissue year:
2017
Number of discs:
1
Revolutions per minute:
33⅓ rpm
Disc size:
12"
Limited Edition:
Yes
Total Item Weight:
233gr
Pressing country:
Germany
For Market Release in:
EU
Added to catalog on:
July 28, 2019
Vinyl Gourmet Audiophile TOP 100:
Yes
Note:
Never eligible for any further discounts
Vinyl Gourmet Club:
No
Composer Kenji Kawai was chosen to recreate the futuristic cyber-punk atmosphere that emanates from the 'Ghost In The Shell' anime, into music. Assisted by percussionist Yuhki Sugawara, Kawai reached the summit of his art by delivering captivating music, halfway between ambient electronics, traditional Japanese music and Bulgarian ritual singings. Impressive soundtrack, sounds amazing!
Featured in Vinyl Gourmet Audiophile TOP 100

First Offcial Vinyl Release
Mastered by Frederic Stader
Cut from Original Master Reels
Cut at Emil Berliner Studios
Pressed at Optimal Media in Germany
One of our longtime favorite soundtracks (and movie), Kawai's GITS score is as haunting as it is brilliantly recorded, the percussion sounds float in mid air, the voices are projected in holographic fashion, and the overall ambient is completely immersive and reminiscent of the amazing movie scenarios. Much used as an audiophile demo disc since 1995 due the high-end production standards, it's now officially released on vinyl for the first time in 2017. This vinyl reissue sounds great, the mastering is extremely well produced and the pressing quality is absolutely top notch. For fans of Ghost In The Shell, for Kenji Kawai admirers, and music lovers in general, this is a must have original score.
We Release Whatever The Fuck We Want Records is thrilled and honored to announce the first ever official vinyl pressing of the soundtrack for Mamoru Oshii's critically acclaimed and all around legendary science fiction anime film GHOST IN THE SHELL (1995), adapted from Masamune Shirow's groundbreaking manga series of the same name.

Cut from the original master reels at Emil Berliner Studios (formerly the in-house recording department of renowned classical record label Deutsche Grammophon).

The haunting score is composed by Kenji Kawai, one of Japan's most celebrated soundtrack composers alongside Joe Hisaishi and Ryūichi Sakamoto, whose work includes Hideo Nakata's Ring (1998) and Ring 2 (1999), Death Note (2006), Hong Kong films Seven Swords by Tsui Hark (2005) and Ip Man by Wilson Yip (2008), and countless others. Kawai's compositions see ancient harmonies and percussions uncannily mesh with synthesized sounds of the modern world to convey a sumptuous balance between folklore tradition and futuristic outlook. For its iconic main theme "Making of Cyborg", Kawai had a choir chant a wedding song in ancient Japanese following Bulgarian folk harmonies, setting the standard for a timeless and unparalleled soundtrack that admirably echoes the film's musings on the nature of humanity in a technologically advanced world.

Ghost in the Shell is widely considered one of the best anime films of all time and its influence has been felt in the work of numerous movie directors, including James Cameron (Avatar), the Wachowskis (The Matrix), and Steven Spielberg (AI: Artificial Intelligence).
Track Listing:
A1.M01 謡I - Making Of Cyborg
A2.M02 Ghosthack (本編未使用)
A3.EXM Puppetmaster
A4.M04 Virtual Crime
A5.M05 謠 II - Ghost City
B1.M06 Access
B2.M07 Nightstalker
B3.M08 Floating Museum
B4.M09 Ghostdive
B5.M10 謠 III - Reincarnation

Click here to listen to samples on YouTube.com ♫