Ein Heldenleben Strauss LP 180g Vinyl EMI Beecham Royal Philharmonic Hi-Q Records Supercuts EU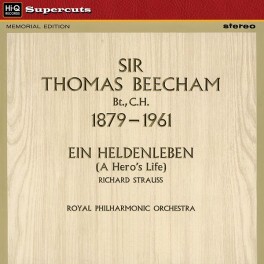 Maximize
Artist:
Richard Strauss
Title:
Ein Heldenleben (A Hero's Life)
Catalog Number:
HIQLP020
Label:
EMI
Reissued by:
Hi-Q Records
Barcode:
5060218890201
Original release year:
1961
Reissue year:
2012
Number of discs:
1
Revolutions per minute:
33⅓ rpm
Disc size:
12"
Vinyl Weight Grade:
180gr
Total Item Weight:
287gr
Pressing country:
EU
For Market Release in:
EU
Added to catalog on:
June 28, 2019
Note:
Never eligible for any further discounts
Vinyl Gourmet Club:
No
Hi-Q Records specializes in high quality reissues of EMI Classical recordings, faithfully mastered from the Original EMI Analog Master Tapes, cut at Abbey Road Studios and pressed on the original EMI presses now working at The Vinyl Factory in Hayes, England. These are historic performances and great EMI recordings pressed on high quality 180 Gram Vinyl.
Hi-Q Records Supercuts
180 Gram Audiophile Vinyl
Cut from the Original EMI Analog Master Tapes
Mastered at Abbey Road Studios
Features Original Album Artwork
"Cut at Abbey Road Studios from the original stereo analogue master tapes with the Neumann VMS82 lathe fed an analogue pre-cut signal from a specially adapted Studer A80 tape deck with additional 'advance' playback head, making the cut a totally analogue process. Pressed using the original EMI presses at The Vinyl Factory in Hayes, England"
Sir Thomas Beecham as a conductor was largely self-taught. Born into a rich industrial family, he was able to access funds to nurture his musical talent and later found and sustain orchestras, like the London Philharmonic and the Royal Philharmonic, featured here in this famous recording of Strauss's last and largest tone poem. His flamboyant style and acerbic wit often created enemies amongst his peers (Boult found him 'repulsive' and Barbirolli mistrusted him) and admirers amongst contemporary composers, such as Strauss, Stravinsky and Sibelius, who sent telegrams for Beecham's 70th birthday celebrations only for Beecham to quip "Nothing from Mozart?".

Recorded on April 17 & 22, 1958 at the Kingsway Hall, London. Produced by the legendary Victor Olof and Peter Andry and Engineered by Robert Gooch. As Olof writes on the sleeve: "This recording... is virtually the last major orchestral work that Sir Thomas Beecham taped... I do not remember his making fun at all during these sessions, as he was apt to do on most occasions. Maybe he considered this as his lasting memorial to an old friend, little realizing that it would also be his own memorial..."

In the original 1961 review Edward Greenfield of the GRAMOPHONE wrote:
"No more fitting tribute to Beecham's memory could be imagined than this... Beecham finds greater richness, a more truly forceful heroism than any other conductor I know... on almost every page Beecham finds special felicities - the sensuousness of the harp glissandi in the love music that never deteriorates into sentimentality, the climax at figure 37 when the horns burst out and Beecham so much more effectively than anyone else lets them be heard through the complex web of the scoring..."

Recorded on 17 & 22 April 1958 at the Kingsway Hall, London.

Musicians:
Royal Philharmonic Orchestra
Sir Thomas Beecham, conductor
Steven Staryk, solo violin
Track Listing:
Richard Strauss (1864-1949)
Ein Heldenleben "A Hero's Life"

1. The Hero
2. His Adversaries
3. His Companion
4. His prowess in battle
5. His peaceful labours
6. His retirement and life's fulfilment
Click here to listen to samples on YouTube.com ♫